Last Sunday was the 2012 Coca-Cola 600. I told you about the viewing party we were planning and encouraged you to have one too. I hope your party was as fun as ours!  We weren't in the stands but it was exciting to watch the race with other fans, we even tweeted with NASCAR fans live during the race.
The winner of the Coca Cola 600 was Kasey Kahne, car #5. I was cheering for Jeff Burton, # 31 who finished 19. For me, it wasn't a huge deal who won, the excitement is watching the race and sharing the fun with other fans.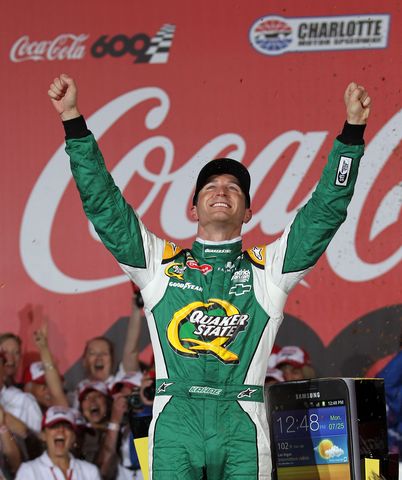 Like most parties, the food sets the tone of the the party. You have to have enough and it has to be delicious. I tried a couple recipes that used Coca Cola as ingredients -something I've never tried before.
The Limelight Steak BBQ was delicious! It was so tender, probably from the Coke Lime marinade.
They guys liked the Twin Cheese Dip with the strong cheese and hot sauce flavors. I was happy to make it, knowing that they would enjoy it more than I would due to the Roquefort cheese. The recipe made a lot but it keeps well up to a week later – my husband has enjoyed it all week and it's all gone!
We also had plenty of Coca Cola and Coke Zero on hand for the party. My kids thought it was great that they could enjoy Coke too – something I allow for parties and special events. 🙂
We had fun sitting together, cheering on the race cars. (See how I managed to take all the pictures and not be in any! ha!)
During the live twitter party that I was part of, people were talking about changing the safety breaks to Coke breaks! It looks like everyone has the same idea!
Even our kids had fun playing with their cousins while watching the race.
We had so much fun together, ate too much food, drank too much coke (don't know how my kids finally fell asleep!), and enjoyed watching a live sporting event together. It's really not that difficult to throw this sort of viewing party and ends up being a lot of fun. You should try it. 😉
I don't normally tweet during a party, however as part of this program, I was one of the twitter party hosts. It ended up being a lot of fun with a couple other people from our party tweeting too.  I would totally tweet during a race if it was just myself watching the race.  There is something exciting about tweeting with other people during a live event that makes it more exciting. You are sharing the same experience, miles apart! When tweeting during a race use @cocacolaracing and #MYCOKERACE to tweet with other fans. It is a lot of fun to tweet live during a race so you can interact with other fans.
Follow @CocaColaRacing on Twitter – they follow back!
NASCAR Season
NASCAR season has just begun! There are many more Coca-Cola NASCAR races to see including the upcoming Coke Zero race on July 7th. Whether you enjoy the race with your own viewing party or tweet with other NASCAR fans, have fun!
Coca Cola NASCAR Giveaway
Don't forget to Enter our Coca Cola NASCAR Giveaway! The contest is running now through June 18, 2012. You could win
1 Coca-Cola branded Grandstands Cooler
A Coca-Cola Branded Reclying Koozie to keep your drink chilled
A Coca-Cola Carabiner Key Light
A Coca-Cola NASCAR Decal Pack
A Coca-Cola and NASCAR Race Day Cap
3 Coca-Cola Tumblers (16oz. insulated tumbler)
This was not a paid post. My own opinions were used based on my perceptions and experience. Thank you to 360i for the products for review  and giveaway.
The prize was provided and may be shipped to the winner by Coca-Cola, but Coca-Cola is not a sponsor, administrator, or involved in any other way with this giveaway. All opinions expressed in the post are my own and not those of The Coca-Cola Company.