Have you ever been zip lining?  If you enjoy the outdoors and want an experience that you'll never forget, check out ZipZone Canopy Tours in Columbus, Ohio. This family-friendly, professionally guided zip lining tour will create lasting memories and family bonding like nothing else. Plus, it makes a great family photo for Christmas cards next year. 🙂
I received tickets to facilitate this post.
ZipZone Canopy Tours Zip Lining in Columbus, Ohio
ZipZone Canopy Tours is ideal for both first-time zip liners and experienced. They offer a variety of tours for beginners to experienced as well as special events. All of their tours are fully guided – you don't have to work the equipment at all. I like this added-safety measure. Safety is very important with an outdoor adventure like zip lining. ZipZone was built following leading standards in the industry and all guides have been fully trained to meet or exceed ACCT standards.
Our guides were amazing. Brock and Josh started our tour with a full demonstration on what to expect, where to stand, how to take off, how to land, and how they would hook the equipment up for us. I was nervous about zip lining since this was my first time so the thorough training was very appreciated.
During the training we saw a family of racoon up in a nearby tree. This is the first time we've ever seen a racoon in a tree like this – I suppose it is because we are never 50-150 feet up in the air like we were at ZipZone. We actually saw two families of raccoons, 2 bucks, several does, and a baby fawn.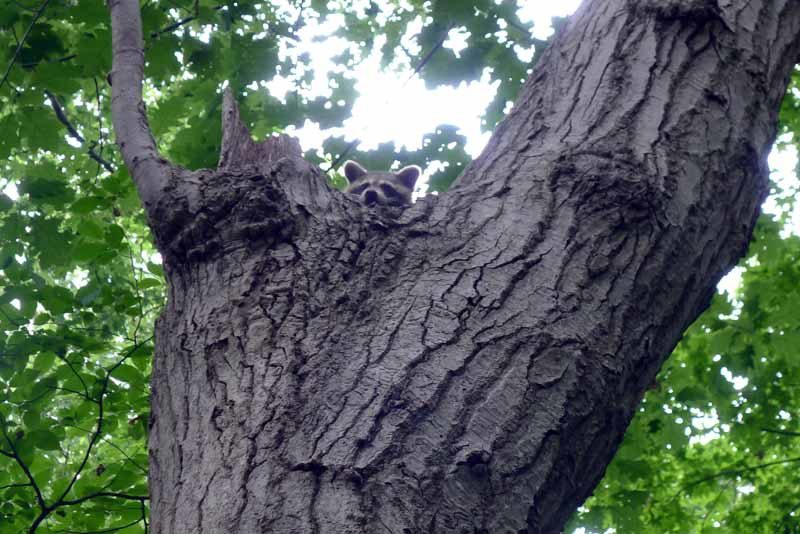 After training, we were ready for our first zip lining adventure – at least my husband and brave kids were. I was still haven't second thoughts! I'm not a fan of heights but do enjoy trying new things and being adventurous. My kids were ready to go from the start!
Be sure to bring your camera for great shots! The tour guides will take photos for you too with both his and your camera. You can purchase pictures afterwards for a reasonable price. You can also rent a GoPro to use during your zip lining tour.
At first, we all held tight to our lines and I made sure my kids were standing close to the trees, not near the edge of the platforms. This eased up significantly as you'll see in photos below.
This was only the second time my 11 year old son zip lined, the first was at Myrtle Beach at the age of 9. He loves to climb trees, so he was so excited to zip line all day with ZipZone. There was no fear.
My daughter is 9, she is so brave. She prides herself at being brave, she rode the Cedar Point's Millennium Force when she was only 6 years old. She is also so brave with recently being diagnosed with Type 1 Diabetes, she's such a trooper when it comes to needles, just like her brother. So, yes, I have brave kids who love high adventure. She didn't give soaring through the trees up to 150 feet above the ground a second thought!
I fully trusted both the staff at ZipZone and our professional tour guides. I didn't question the safety one single time, which is unlike me. I'm a little bit of a worrier when it comes to my children. The entire zip line course was very up-to-date and all the the equipment looked brand new. This is a well taken care of course.  I liked that I didn't have to do anything with the equipment, our guides did everything. They checked our harnesses, attached the removable trolley, and the double cords that secured us to the lines.
Our tour guide, Josh would zip ahead of us to receive us at the end of the zip line while Brock hooked us up and got us started on every zip line. They had walkie talkies that they communicated back and forth on for every person zipping.
The course is set up from easy to more difficult. It allows newbies like us to get comfortable with zip lining and with the course with a short and lower zip line at the beginning and progressively longer and higher lines. The below course rises 150 feet above the forest floor and is breathtaking! All of the zip lines were amazing but this one was beyond thrilling.  We were zip lining through trees, some of which were hundreds of years old, over ravines and streams. The course cover 20 acres of forested landscape in central Ohio.
I have to confess, I was very concerned with this course and wasn't sure if I could do it. Walking off of the platform is the hardest part. This is a video my husband took on this zip line.
The minimum weight for zip lining at ZipZone is 50lbs and 7 years old. If your child is on the lower weight side, they are able to accommodate by tandem zip lining with the kids on the longer lines while the shorter lines, they can zip alone. The maximum weight is 270 lbs. This is just to keep the tours going at a good rate of time, the zip lines can actually hold 26,000 lbs!
Along with 5 zip lines, you'll also walk across 4 sky bridges! This is another way to enjoy the scenic view of untouched nature and wildlife. I say untouched because ZipZone is very eco-friendly. They pride themselves in environmentally friendly building techniques that limit tree intrusions. For the entire course, they only cut down 2 viable trees and neither of which were old. They built the course around the environment.
Our fun tour guides gave us challenges to complete throughout our tour too like walking across the sky bridge with no hands, something I tried but couldn't do but my son did!
Another challenge was to lean back over the edge of the platform – remember how I made sure we were all tree-huggers at the beginning of the course? I can't believe we did the below!
My husband and son were the bravest! I was afraid they would fall – even though they were tethered to the tree.
Here is another picture of my son hanging off the edge of the platform near a sky bridge. How did my kids get so brave and adventurous?!
This experience is one that we will never forget. It was an amazing family bonding time for us. Anytime that you can experience something new with your kids is a special moment. It is a time that we will talk about for years to come – and we fully plan to go back again to ZipZone soon!! The last zip line was a little scary looking at it goes between two trees, it's totally safe and makes for a great picture.
This was the look that I had at the beginning of the course. I admit that I was terrified. I had the thought crossing my mind of going back down the stairs and letting my husband take the kids himself.  I knew that it was safe and I knew that I would be mad at myself if I didn't go through with it. I didn't want fear of heights or just fear itself to win, so I took the first leap off the platform and soared through the sky like a bird. It was so freeing, it was so amazing.
This is what I looked like after the first zip line – all smiles with my family. It was well worth taking the risk and getting outside of my comfort zone. We had a fabulous time and I highly recommend ZipZone for your first zip lining adventure and for seasoned zip liners. It will be an experience you'll never forget.
Make Reservations Today
You can make reservations online for your zip lining in Columbus, Ohio adventure. ZipZone is open March 25 – November 13th daily and weekends November 13th – 27th.
Choose from these zip lining tours:
The Zip Lining Canopy Tour includes 5 zip lines and 4 sky bridges for two hours of fully guided fun.
The Zip Rush Tour includes 2 sky bridges, 2 zip lines, and a QUICKjump free fall experience.
Full Moon Zip lining offers zip lining in the dark during a full moon.
Forest Discovery Zip lining Tours is a unique way to learn about the local environment from the treetops.
Freaky Flights Zip lining Tours are the best way to celebrate Halloween in Ohio! With no light of the moon to guide the way, this spooky tour is in complete darkness. You can even chuck a pumpkin from the line to win prizes.
ZipZone Ziplining Discounts
Save money by booking a group of 8 or more people at once time. They also offer AAA discounts, kids birthday specials, discounts for Scout Troops, and military discounts.
ZipZone Canopy Tours
7925 N High St
Columbus, OH 43235
Phone: (614) 847-9477