There aren't many places and attractions that the entire family can enjoy while on vacation. However, at Cedar Point, there is something for everyone with more than 150 rides, shows, and attractions for the whole family. Whether you have grade schoolers or teenagers, Cedar Point is one place where they will all have fun!  It is with many good reasons that Cedar Point has been voted the "Best Amusement Park in the World" for 15 consecutive years!
Last week, we took the chance at going to Cedar Point with kids with the age range of 6-14. I know this is a real concern for many families with kids of multiple age ranges. I hope that after reading this post, you'll see that Cedar Point is the best amusement park in the world for the whole family.

Think we had a good time? You bet we did! The best part is that we were all able to enjoy time together on many of the rides while breaking off throughout the day for different age-appropriate rides. One thing that I love about Cedar Point as a mom is that there are a range of kiddie rides, easy rides, and thrill-seeker rides throughout the park. You can take the entire family throughout the entire amusement park and have something for everyone to do. If you have a young child, you aren't stuck in a tiny section all to yourself for the whole day – although Cedar Point does offer several locations filled with rides specifically for that age group so you don't have to travel the entire park if you don't want.
We received tickets to facilitate this review and post. No matter when we go to Cedar Point, we have always have a blast! We have visited when it was nearly 100 degrees with the Cedar Point Ride & Slide passes as well as in the colder days in October for Halloweekends. This time, it was breezy with showers on and off throughout the day – we still had a great time!

My son's friend, David and his brothers have never been to Cedar Point although they have lived in Ohio all their lives. I think it is one of those things where if something amazing is in your own backyard, you take it for granted. Cedar Point is the WORLD'S best amusement park, if you live in Ohio or nearby, you really need to plan a staycation to Cedar Point.
Since they were new to Cedar Point, we started off slow with the Skyride. Success! There was no fear – just big saucer eyes looking over at the gigantic 364 acres of fun!

Our kids were anxious to go on a roller coaster first thing! I would have sent them on the Iron Dragon or Jr Gemini but they wanted to head to the Corkscrew for their first ever roller coaster! Success! These kids were Thrill-Seekers and immediately went on to the Magnum XL! Even my 6 year old daughter went on the Corkscrew since she is now tall enough. She loved it and loved explaining every twist and turn to her daddy.


With all the excitement, we decided to take a ride rest and go through Dinosuars Alive.  Read our full Dinosaurs Alive review. This is a must-see while at the park for just an additional $5 each. I'm so amazed at how the dinosaurs tower above you with life-like sounds and movements. Many are life-size, making you feel really tiny!


From here, we took a stroll through Camp Snoopy where there were several rides that our kids still thought were cool and not too babyish – like the swing ride, Camp Snoopy Bus, Tilt-a-Whirl, and the Woodstock Express roller coaster.
We even found the Peanuts Gang walking around Camp Snoopy including  Charlie Brown, Lucy, Linus, and Snoopy!


We stopped at the petting farm while walking through Frontier Land. They had the most adorable piglets and baby cows I've ever seen! All the younger kids enjoyed petting all the farm animals.
Of course you can't go through Frontier Land without a jailed up kids snapshot! Don't they look sad? They were going for the downtrodden look.

Last year, my 7 year old son braved and conquered the Millennium Force. Of course he wanted to go back on it with his friend. I can't believe that his friend who has never rode a roller coaster until our trip wanted to ride. Furthermore, I couldn't believe my 6 year old daughter wanted to ride! I captured the below picture of my daughter with Daddy.  My husband said she had a complete look of terror on her face while going down the first hill, after that, she was all smiles!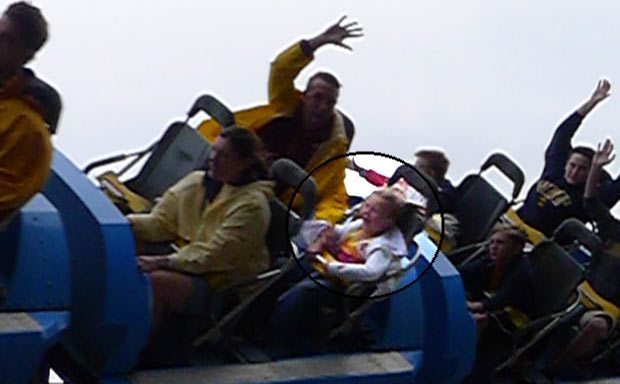 When she got off Millennium Force she exclaimed that EVERYONE in the whole world should ride it because it is so fun! She even bragged to some teenagers about her accomplishments and they were nice enough to stop and chat with her. She felt like a big shot!

One thing I always recommend when going to Cedar Point is to buy their souvenir drink. It is $12.99 and you get free refills for the entire day that you purchased it. After that, it is just $1 a refill on return visits to any Cedar Fair property. We have saved a lot of money by doing this and stayed hydrated. Cedar Point now serves Coca Cola products for all the Coke lovers.


A trip is never complete without a drive on the Antique Cars. Even the older boys enjoyed the restful break by taking a drive around the course.


Elijah and David thought it was awesome to have the freedom of driving and riding in their own antique car!

Since it was raining off and on during our trip, the lines were so short. If I had to do it again, I'd choose a day with the chance for showers. We rode so many rides and had very little wait.  On busy days, I highly recomend using the Cedar Point App. This is a free download for your mobile phone. It is perfect for first-timers as it is GPS enabled and gives locations and details on all the rides like height requirements, etc.  The teenagers in our group used it all day to select which rides to ride based on the wait time.

We had the best time, despite the age differences. Part of the time we spent together riding rides and the rest we separated based on ages. Since the park's layout is so well done, we were never far from each other and nobody had to wait for part of the group to ride rides, we were all riding the entire day.


The grand finale was the GateKeeper. Our plan was to wait until the end of the day to ride the GateKeeper since we thought maybe the lines would be shorter than first thing. I think anytime is a good time to ride the GateKeeper though! In fact, we got on in just 20 minutes so we could go multiple times!!


If you don't know anything about Cedar Point's new GateKeeper ride, check out this review with video. The GateKeeper has it all – vertical drop of 164 feet, 5 upside-down flips, and speeds of 67 mph!  It is the world's longest wing roller coaster with the longest drop of any wing roller coaster. It feels like you are flying!
Once you ride it, you'll want to buy the shirt to prove it! The GateKeeper gift shop is quite impressive with a variety of stylish GateKeeper clothing and memorabilia.

We had a very full and exhausting day. We rode and rode and rode! All the kids had a fantastic time experiencing new rides and being together. If you can get another family to join you at Cedar Point, you won't regret it. Sharing experiences with friends and family makes Cedar Point even more memorable and exciting.
Now that my kids are both tall enough to ride larger rides, we could have easily spent another day or two at Cedar Point. There is so much to see and do, don't shortchange yourself when you visit. There are many, many reasons why Cedar Point has been voted Best Amusement Park in the World for 15 years – and counting! Go and experience it yourself!

Visit Cedar Point
Don't miss out this year, make plans now to take your family to the world's best amusement park! Cedar Point is open daily now through Labor Day, Sept. 2, and Friday nights, Saturdays and Sundays through Oct. 27, 2013.
Buy your tickets online or at the gate.
Like Cedar Point on Facebook
Follow Cedar Point on Twitter
Check out the Cedar Point YouTube channel
This was not a paid post. My own opinions were used based on my perceptions and experience. Thank you to Cedar Point for the tickets for the review