Grilling season is here! Everything taste better when it is BBQ. Are you annoyed by the amount of clean up involved with grilling out? First, there is the dish with the raw foods to wash. Then we dirty another dish that we serve the food on. Plus, we have to clean the grill after it cools. It just seems like so much for delicious grilled foods. Not any longer! I was thrilled to receive a new grill-to-table product from the Bobby Flay line of cookware to facilitate this review.
Grill to Table with Bobby Flay Sizzle Server Set
The Bobby Flay Sizzle Server Set is super convenient and makes grilling out as easy as it should be!  Simply cook and serve in the same dish! Why didn't anyone think of this before? It is a beautiful sturdy, metal alloy grilling and server dish. The sizzle server cooks food fast and evenly on the grill.

Plus, it keeps the food hot on the table as it retains heat.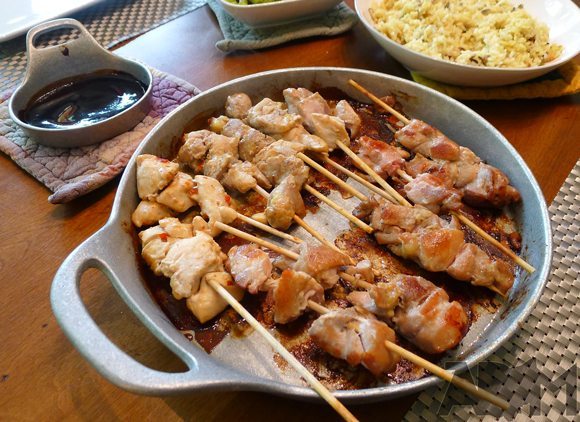 Did you notice the metal sauce dish? This is excellent for adding warm sauce to your foods on the grill or at the table. For the chicken skewers above, I was able to offer additional warm teriyaki sauce at the table for extra flavor.  It is also great for warm butter for corn-on-the-cob!

The Bobby Flay Sizzle Server Set makes grilling fun again and a lot less work. I use it on both our outdoor charcoal grill and our Kenyon Indoor Grill.  You can use the Bobby Flay Sizzle Server Set on gas, electric, and glass cooking surfaces too.  It is heat-resistant up to 1000°F!  You can serve sizzling hot food to the table any time now whether you grill or use your cook top! I like that it keeps food warmer on the table for longer too.
How impressed would your family and guests be if you served hot, sizzling fajitas like you receive at restaurants? I plan to try a new fajita recipe this weekend!
It is all about using the right tools and presentation – the Bobby Flay Sizzle Server Set boasts both! The Bobby Flay line of Grill-toTable Sizzle also includes a pan with trivet, platter, tray, sauce pot, and deep oval sizzle pan for all your grilling-to-table needs!
Happy Grilling!
Buy the Bobby Flay™ Grill-to-Table Sizzle Server Set
Buy the Bobby Flay™ Grill-to-Table Sizzle Server Set at Kohls or on the Kohls website for $74.99
Like Bobby Flay on Facebook
Follow Bobby Flay on Twitter
This was not a paid post. My own opinions were used based on my perceptions and experience. Thank you to Bobby Flay who provided the product for review.