Looking for a Heavy Cream Substitute Recipe? Below are several recipes for Heavy Cream Substitute, Light Cream Substitute, Shipped Cream Substitute, and Devonshire Cream Substitute. The recipes are taken from the Substituting Ingredients, 4E: The A to Z Kitchen Reference Book. I can't tell you how many times I have used this reference book in my kitchen since I got this book a month ago. It is so convenient to have a guide to tell you what to do if you are missing a key ingredient. I wish I had received this book as a bridal shower gift so I could have used it all my adult cooking life.
Tonight, I wanted to make cream spinach but had no heavy cream. I followed the heavy cream substitute found in the book and it worked perfectly. AND the substitute cost a lot less than buying heavy cream in the store.
Heavy Cream Substitute Recipe (Not used for whipping)
Mix together 3/4 cup milk plus 1/4 cup shortening or butter – or-
2/3 cup evaporated milk.
Yields 1 cup
This is what the Heavy Cream substitute looks like using milk and shortening. I whipped this pretty good with my KitchenAid mixer and this was as good as I could get it. It doesn't look like heavy cream so I wasn't sure how it would work in my recipe.
It worked perfectly in my cream spinach recipe!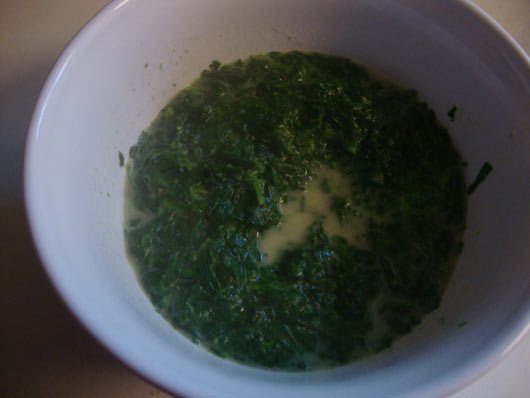 I had no idea that you could substitute cream with other items. Not only does it save a lot of time but it saves money too.
Light Cream or 1/2 and 1/2 Substitute Recipe
1/2 cup heavy cream plus 1/2 cup milk -or-
7/8 cup milk plus 3 TB butter or margarine -or-
1/2 cup evaporated milk plus 1/2 cup milk
Yields 1 cup
Whipped Cream Substitute, Sweetened Cream Substitute Recipe
1 4-oz package frozen whipped topping -or-
1 envelope whipped topping mix, prepared as directed
1 mashed banana beaten with 1 stiffly beaten egg white plus 1 tsp sugar -or-
1 cup nonfat dry milk powder whipped with 1 cup ice water and sweetened to taste (this is for low-calories desserts & drinks, won't hold long) -or-
1 cup ice-cold evaporated milk, plus 2 tsp sugar, whipped
Yields 1 cup
Devonshire cream Substitute or Cream, Clotted Substitute Recipe
heavy cream, whipped to soft peaks -or-
sour cream with pinch of baking soda -or-
creme fraiche
Yields 1 cup
I highly recommend you buying the Substituting Ingredients, 4E: The A to Z Kitchen Reference Book, it is less than $10 on Amazon.com. You'll save that amount of money the first time or two that you use the book and don't have to run out to the store for the forgotten ingredient!