If you are like the average American, you consume 22 teaspoons of sugar per day – more than 2x the recommended amount. Are you looking for a natural sugar substitute that taste great? My family was able to switch and try Hey Shuga! for the past couple weeks.
Natural Sugar Substitute Hey Shuga! Review
I know that I personally am one of those Americans over-consuming sugar. By drinking just 2 cans of soda, I was already at 20 teaspoons of sugar a day. Yikes! That's an extra 300-400 calories a day I was consuming – all of which had no nutrient value.  It's been over a week since I've had soda, and Hey Shuga! is one of the reasons.
I use Hey Shuga! or Lil' Shuga! to sweeten my hot or cold tea, while my husband uses it for his coffee. We have also put it in our cold and hot cereals. We haven't noticed a difference, it works as a great natural sugar substitute. 1/3 tsp of Hey Shuga! equals 1 tsp of sugar.
What makes Hey Shuga! and Lil' Shuga an organic, natural sugar substitute?  It is made of Stevia leaf extract and the purest and best can sugar. Stevia is a small green plant that taste 30X sweeter than sugar and found in Paraguay. Plus there are health benefits of Stevia. Stevia cannot be metabolized by human bodies so your body doesn't on onto the calories or sugar alcohol from Stevia. You can have your sweets and keep your calorie count down.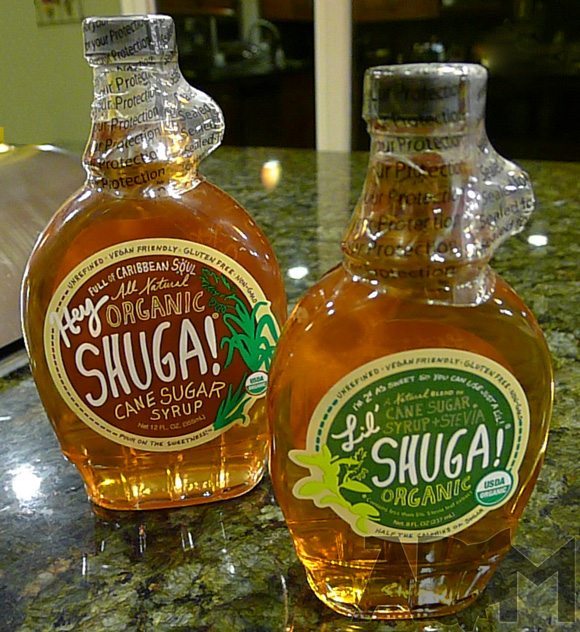 Hey Shuga! is an organic, natural sugar substitute that taste great.  It is GMO free, gluten free, kosher, vegan and has only 10 calories per serving. I must admit that it took a little mind power to get over the fact that it is a syrup rather than a solid. The Hey Shuga! and Lil' Shuga! has the consistency of honey, only a little thinner. It is an easy way to cut back on sugar and calories, (10 calories for Hey Shugha! and 5 calories for Lil' Shugha!).
You can also cook and bake with Hey Shuga! and Lil' Shuga!. Hey Shuga! has a collection of recipes to sweeten your day.   I tried both the Hot Chai Recipe and the Oatmeal Cranberry Walnut Bread recipe, using Lil' Shuga! and Hey Shuga!
Sweet Hot Chai Recipe
My husband and I really enjoyed this recipe. It was the first time I've made home-made sweet hot chai, it was so easy – and a lot less expensive than buying packets. This recipe makes one really large mugs or two small coffee cup sizes – it was enough for both my husband and I to enjoy one cup each.
[slickr-flickr tag=lilshugha]
Sweet Hot Chai Recipe Ingredients
Recipe Courtesy of Unofficialfoodguide.com
3 bags of Lipton natural tea (I used one large tea bag meant to be used in larger batches.)
1 1/2 c milk
1/2 c water
1 clove
Dash of nutmeg powder (I'll use a bit more next time)
Dash of cinnamon powder (I'll use a bit more next time)
"Hey Shuga!" or "Lil' Shuga!" to taste (I used Lil' Shuga!)
Sweet Hot Chai Recipe Directions
Boil water in small sauce pan (Love how my Kenyon Custom Induction Cooktop boils water in less than a minute!)
Add tea bags and spices
Add milk and stir until tea is bubbly
Remove from heat, stir occasionally and let tea for about 3 minutes. The chai will turn brownish in color
Remove teabags and clove
Pour into your favorite cup
Add "Hey Shuga!" or "Lil'Shuga" to taste (It doesn't take much to sweeten with this natural sugar substitute)
This recipe is a keeper – easy to make and very inexpensive – especially compared to the coffee house prices!
Oatmeal Cranberry Walnut Bread Recipe
Three of my favorite ingredients are combined in this Oatmeal Cranberry Walnut Bread Recipe. I was nervous to use the liquid natural sugar substitute in this recipe instead of "real" sugar, but it worked great.  It is easy to make and delicious to eat!  The fresh cranberries are amazing as they pop with every flavorful bite. You could also use pecans instead of walnuts.
[slickr-flickr tag=lilshughabread]
Oatmeal Cranberry Walnut Bread Recipe Ingredients
1 1/4 c boiling water
1/2 c old-fashioned oats
2 TBSP butter
1/4 c Hey Shuga!
1 1/4 tsp salt
1 package active dry yeast (2 1/4 tsp) (I use Fleischmann's Yeast)
3 1/4 c all-purpose flour
1/2 c chopped walnuts
1/2 c cranberries
Oatmeal Cranberry Walnut Bread Recipe Directions
Combine boiling water, oats, butter, salt and Hey Shuga! in a large bowl
Stir mixture gently but firmly to combine. (I used my KitchenAid mixer on low)
Add yeast, stir.
Stir in walnuts and cranberries
Stir in the flour and knead until everything is smooth and incorporated.
Lightly oil a bowl and place the kneaded dough in it, turning it until it is all coated with oil
Cover the dough. Let rise in a dark, warm place for at least 1 hr.
Shape the dough on a loaf shape or on small/medium individual rolls and place on a baking sheet or loaf pan.
Cover the pan or baking sheet and let rise again for 1 hr.
Preheat oven to 375 F. (I baked at 365F with my convection oven)
Uncover the pan and bake the bread for about 30-40 minutes, or until golden brown.
Buy Hey Shuga! and Lil' Shuga!
You can buy Hey Shuga! and Lil' Shuga! on the Hey Shuga! website for $7.99 – $9.99 each bottle and on Amazon.com.
This was not a paid post. My own opinions were used based on my perceptions and experience. Thank you to Shuga who provided the products for review.