These simple Keto Hacks will make the Ketogenic diet so much easier for you because they don't skip on flavor.  Eating for ketosis can be really difficult as you learn to eat different foods and skip out on foods you traditionally eat.  The biggest component that deters people from this new lifestyle and weight loss strategy is the lack of flavor. I'm all about flavor when I cook and have personally used the below products for my family to add healthy and sustainable choices for our diets – even though we aren't on a Keto diet. Incorporating healthier foods is always a good choice for everyone.
Read on to find Keto Hacks that don't skip on flavor – and two family-friendly recipes that are packed with nutrition (although not Keto).
Keto Hacks that Don't Skip on Flavor
Coconut Flour!
I've been using Better Body Food Organic Coconut Flour since February (see post here). My family doesn't miss the carbs at all. Switching to coconut flour during your keto diet is perfect because you get 23% of dietary fiber in every 16 g serving. Plus, it is low-glycemic and gluten-free.
I use it scoop for scoop in all my recipes.
There is a coconut flavor so if you don't like coconut at all, this might not be for you but if you like it even a little, you will love this flour. I only mention the flavor because with the name COCONUT flour, some may think it is overpowering, it is not. It is delicate in flavor and texture for that matter. I love the way it cooks and bakes. but especially how low carb it is!
Pancakes?
You wouldn't think you could enjoy pancakes on a Keto diet but you can with Happy Days Brands' Keto Pancake and Waffle Mix! It is actually low-carb so whether you are on the keto diet or type one diabetics like my family, you can appreciate the low-carb benefit of Happy Days Brands.
This Keto pancake mix is made up of almond, coconut and cassava flours that makes it low carb. I love that it is a simple way to eat healthier by just adding water to the mix!! Easy! Plus, it each serving is just only 3 grams of net carbs with 4 grams of fiber!
That is remarkable! Whether you are on a keto diet or not, this is a easy way to add a healthier option to your family's diet for long-term weight control.
Don't Pass on Mayo!
What would life be without mayo? Seriously, not very fun. Even on a keto diet, you can enjoy mayo when it is Better Body Foods Avocado Oil Mayo. One factor with going on the keto diet is that there are strange foods that you aren't use to. With Avocado Oil Mayo, you get the rich, creamy spread of a mayo but in a much healthier version. The bonus is that you won't notice the switch – unless you notice that it actually tastes better! We switched to this mayo over the summer and my kids didn't notice at all. I even served it with lunch with my parents (who can be picky) and they didn't notice!!
This avocado oil mayo uses cage-free eggs and rich avocado oil for naturally low carb food that is a keo diet hack you can live with well beyond the diet!
Bone Broth
I've been hearing a lot about the benefits of bone broth lately, have you? What makes bone broth, especially Fond brand is that it delivers valuable amino acids, collagen, gelatin and trace minerals that ordinary broth doesn't.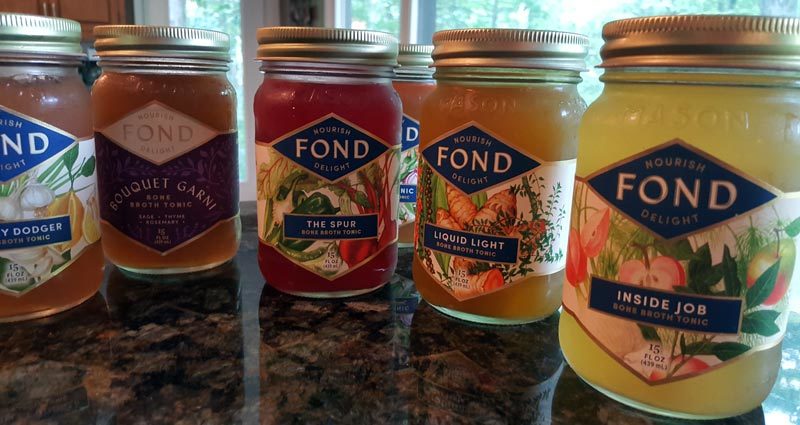 Fond broth is more of a tonic than just a broth. It gives your body more of what it needs to nourish your body, especially while on a body changing diet like the keto diet. While your body is breaking down fats and using it for energy in a new way, your body needs the nutrition of Fond.   All Fond broths are 100% sugar free, carb free, fat free, and gluten free. These broths are powerful, nutrient-packed foods that aid in digestion, calcium absorption, reduces inflammation, astringent for youthful skin, fights cancer, boosts anti-viral properties, and so much more. It truly is a health tonic.
Although not 100% keto friendly – there are some healthy carbs, below are a couple dishes I prepared for my family using Fond broths and they loved it.
For the cold Kale & Quinoa Salad, I used Inside Job Fond Broth.
This broth is packed with protein – 18 grams per serving! It makes a lovely side dish for anything I prepare or can be enjoyed as a full plate entree for lunch! 
I like that FOND has a variety of flavors of broth that fit perfectly with the health requirements you have as well as dishes you want to prepare. Some are better suited for certain types of dishes but others can be used to mix up the flavor with any dish you make at home to give it added nutrition and flavor.
Their Easy Bone Broth Skillet recipe can be keto friendly when you swap out the potatoes for sweet potatoes.

For this recipe, we used the Trolley Dodger, my favorite Fond flavor so far. It has delicious lemon, garlic, radish and green onion flavors that go well with vegetables. It is sooo good! Just add it to the veggies and simmer in the flavor and added nutrients.
This recipe is good as as side dish for any meal.
It also makes a great morning hash with eggs recipe – or brinner! Packed with nutrition and protein, this meal is hearty enough to keep everyone full and happy.
Choose your favorite flavors and start cooking up something delicious for your family!
Whether you plan to go on the Keto diet for the short-term or are looking for long-term healthy alternatives, the above products are healthy life hacks that everyone can incorporate into their diets. The best way to be and stay healthy is to make healthy choices. Switching out one product at a time is usually the easiest way to start!