Are you tired of trying to be creative in order to pack your child's lunches and keep them cold? Are you tired of being limited on what you can pack in your child's lunch box because of it spoiling or being unsafe when your child finally gets to eat it? I've been there and it is no fun! I have tried freezing juice boxes to act as a freezer pack for my kids. Sometimes the juice is still frozen and my kids can't drink it! Other times, my kids bring home unopened string cheese or yogurt, warm and ruined.
I was introduced to PackIt last Spring. I used it all summer long for snacks and drinks whenever we got in the car, went to the park, and even while on the beach. Even in 100 degree temps on the beach, our PackIt kept our snacks and drinks refrigerator cold.
I will be highlighting this product as one of my favorite time saving devices for moms on New Day Cleveland on Cleveland's Fox 8 on September 28, 2011.
Update: It's June 2013 and I still use my PackIt every day!!!
How PackIt 10 Hour Lunch Bag Makes Mom's Life Easier
Keeps foods refrigerator cold for 10 hours
Gel is built in the bag, offering 360 degree of cooling – other gel packs work for just 2 hours
Can pack foods you couldn't before like yogurt, meats, cheeses, milk
Use for lunches, diaper bags, traveling, gym
Larger sizes for picnics, mini cooler, and grocery shopping coming soon.
PackIt 10 Hour Lunch Bag Review
I literally have used PackIt everyday since last Spring. I simply grab it out of my freezer, add drinks and healthy snacks, and go. When we get home, I fold it back up and stick it in the freezer for the next outing. Now that my kids are going to school, they both use their own PackIt for lunch. I've seen quite a few other kids at school using them too! The word is getting out that PackIt is the way to provide healthy meals on the go.
So, how does it work? PackIt lunch bags are lined with a 100% non-toxic gel liner, providing you with refrigerator coldness for 10 hours. You can even chill items that are at room temp in PackIt, it's that good! Maybe you think your doing ok with a gel pack in your lunch bag. PackIt keeps your food colder 5x longer than a regular bag with a gel pack. Gel packs only stay cool for 2 hours, my son doesn't eat his lunch for 4-1/2 hours after getting on the school bus in the morning. How about yours?
I volunteer as a lunch mom at my son's school. I help kids open all of their containers, including things like yogurt, cheese sticks, and more. Too many times, the food is not cold or even cool to the touch. PackIt will ensure that your kid's food is cold and healthy to eat.
I also see way too much food being thrown away that kids didn't even touch. With PackIt, your kids can leave their leftovers to be put back in the refrigerator when they get home. PackIt reduces waste and saves you money.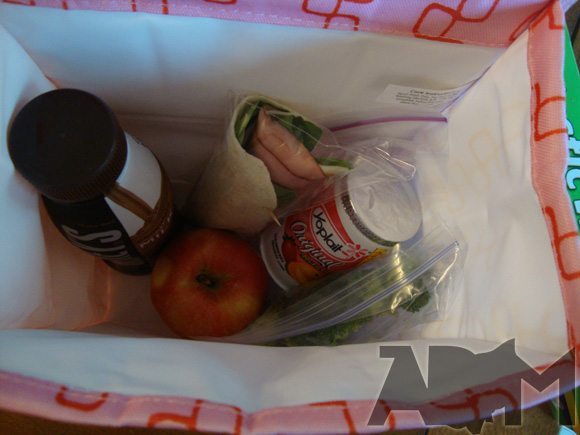 PackIt isn't just for kids either, it is great to take to the office, pack your baby bottles, or take anywhere that you want fresh, cold foods and drinks.
Coming Soon by PackIt
Soon, you will also be able to buy PackIt Mini Cooler, PackIt Social Cooler (picnic size) and a grocery bag called the PackIt Shop Cooler.  You will be able to stop at the market and buy your ice cream and milk and not have to race home!
Buy PackIt 10 Hour Lunch Bag
You can buy the PackIt 10 Hour Lunch Bag on Amazon.com in a variety of colors and styles for every taste.
This was not a paid post. My own opinions were used based on my perceptions and experience. Thank you to PackIt who supplied the products for review and giveaway.