Summer has flown by and although I've spent every day with my kids, I feel like I haven't spent enough time. With only a couple weeks left before school starts, we have big plans to enjoy Summer in a big way.  This means going to the pool as much as possible, sleeping in, playing Minecraft, and playing outside. Isn't that what Summer is all about? Playing!  With all of the above, my kids want snacks – all the time. Their favorite snacks are chocolate or peanut butter granola bars. My daughter loves snacks so much that she plans it out by asking how much she has to eat at dinner to be able to have a snack later.  (The answer is always all of dinner!)
One thing that we enjoy doing year-round for quality one-on-one time is cooking and baking together.  Both my kids are eager to help when it involves baking sweet snacks. I like baking from-scratch snacks because I know what is in it and because I think it always taste better. I participated in a campaign on behalf of Mom Central Consulting for ACH Food Companies Inc. I received a promotional item as a thank-you for participating from Mom Central Consulting.
Peanut Butter Oat Bars Recipe
Today, we tried a new recipe from Karo Syrup website, Peanut Butter Oat Bars. My kids love peanut butter but with all the allergies at school, they don't get to have it much during the school year. So, I like to make tasty peanut butter treats at home with them.
This recipe is so easy to make with plenty of opportunities for your kids to help – no matter what age. I started my kids out helping in the kitchen when they were toddlers – they loved it and still do. Baking with kids can be so fun and great quality time together.
Peanut Butter Oat Bars Recipe Instructions
For this recipe, you'll spread 2 c quick oats in a jelly roll pan and bake until toasted at 400ºF for about 8 minutes, stirring occasionally.
Next, stir together 1-1/2 c flour, 1 tsp baking powder, and 1/4 tsp salt in a bowl.
Beat together 2/3 c chunky peanut butter, and 2 TBSP butter with a mixer.
Add in 1 c sugar, 1/3 c Karo Dark Corn Syrup, 2 eggs, and 1 tsp vanilla.
Stir in your toasted oats and 2 c raisins with a spoon. Mixture will be very thick and sticky.
Spread in pan.
Bake at 400ºF for 20-25 min. I have a convection oven so I reduced the temp to 390ºF and baked for about 18 minutes. Cool on wire rack, cut into bite size or small bars.
We enjoyed our peanut butter oat bars with a glass of milk. The bars were a hit with my kids, probably because they were very similar to their favorite chewy peanut butter granola bars!  🙂 They didn't look too "pretty" but taste great. It is a hardy and filling snack for anytime of day. This recipe makes a large batch too, so I plan to freeze about 1/2 for later.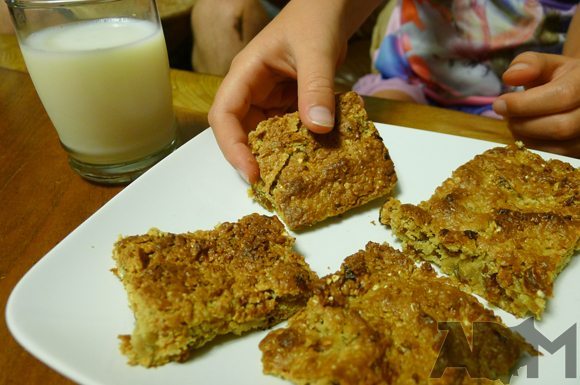 The Karo Syrup website offers a lot of delicious recipes just like this for families. Making from-scratch recipes is a good excuse to get some one -on-one time with your kids during these busy last days of Summer and all year long. It is a fun activity for both you and your kids.
People have been using Karo Syrup for more than 100 years for delicious desserts. It is the only corn syrup that contains 0 grams of high-fructose corn syrup. It is so easy to use in all kinds of recipes too. Delicious treats like the Peanut Butter Oat Bars are perfect for taking with you in the car, to the pool, or packing in school lunches.
Like Karo Syrup on Facebook
Do you enjoy baking with kids? What are your favorite recipes?