I enjoy trying new products which is one reason why blogging is perfect for me! I was given a few brand new products from Smucker's to try as in a special "First Taste" collection. I've already seen a couple of these items at the grocery store and will be buying more. (Smucker's is the parent company of all the below brands.)
At one point in time someone said "What If" we combine salt and caramel together and I'm so glad they did! A few years ago, I really started noticing the caramel and salt combination hitting the grocery stores as well as in restaurants and bakeries. It one of the newer food trends that seems to have lasting power. The new Jif Salted Caramel Flavored Hazelnut Spread is going to be a big hit. It already is a new favorite item in my family!
I enjoy it on English muffins and toast in the morning or as a little treat in the afternoon with pretzels. It is also great on waffles, pancakes, croissants, in oatmeal, and as a dip for food like fruit and vanilla wafers. The texture is really smooth for a hazelnut spread and the test is all chocolate with enough caramel and salt to pleasantly surprise you. I'm not sure if this counts as breakfast or dessert!
My kids are addicted to Jif peanut butter. I go through so much in my house because we use it for everything – toast, pancakes, pb&j, as a dip with apples and pears, and even just by the spoonful! So glad they said "What If" we add honey to the peanut butter to create Jif Natural Peanut Butter Spread with Honey. We were able to try out the new Crunchy variety.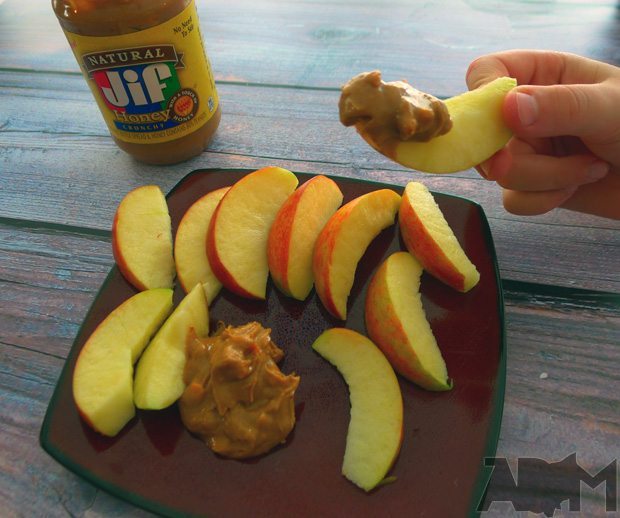 The first thing that I noticed and really like is the consistency, it is just like regular peanut butter. There is no need to stir and stir and stir like with other natural peanut butters! Then, the second thing I enjoyed was the taste. The hint of honey is just perfect, no need for any more or less. I'm surprised there was enough left to take a picture since my kids devoured it this week!
Someone at Pillsbury must have said "What If" we make our already popular Funfetti brand even more fun with extreme colors. We have had a lot of fun with the new Pillsbury® Funfetti Aqua Blue Cake & Cupcake Mix with Funfetti Frosting. The colors are amazingly cheerful! It would make a great birthday cake for kids or a fun pick me up any gloomy afternoon. Check out this One Fish Blue Fish recipe and this Bold Tie-Dyed Layer Cake!
I decided to experiment with it a couple different ways. Below is everything you need for Funfetti cupcakes.
It is so simple to prepare. Let your kids help, they will flip over how bright the aqua blue cake mix is when you mix all the ingredients together! Add the bright orange frosting for a truly fun dessert!
I thought the bright aqua blue would look great as a cake pop but have never made a cake pop before. I guess I had a little "What If" moment too. 🙂 I just thought the bright aqua blue would be so fun with a white chocolate coating. I just added some Pillsbury white frosting to crumbled up Funfetti blue cake, then rolled them into balls. I froze them for 15 minutes, then dipped them in melted white chocolate. Next, I rolled them in the sprinkles left over from the Funfetti frosting. My kids loved them! The cupcakes were moist and delicious as it, but decadent as cake pops!
Another new product I was able to try is the new Smucker's Natural Fruit Spread in a new Squeeze bottle.  If you've never tried the squeeze bottle before, you don't know what you are missing. I am so glad someone though "What If" we make mom's lives easier by putting the spread in a convenient squeeze bottle!
It is so quick and easy, especially when preparing pb&j for school lunches on busy mornings! Plus, it taste great on anything including oatmeal and our favorite jelly cookies!
Smucker's is a proud sponsor of the Olympics – Go Team USA!!
I encourage you to try new products like these with your family. You might find a brand new favorite!
Find more about new products on the Pillsbury website as well as the Pillsbury Baking Pinterest page.
Like Pillsbury Baking on Facebook
#SmuckerFirstTaste
©/® The J.M. Smucker Company. Pillsbury is a trademark of The Pillsbury Company, LLC, used under license.