Although we don't drink pop (or soda, depending on which part of the country you are from) on a regular basis, we do indulge ourselves from time to time. Who doesn't enjoy a little fizzy drink every now and then?  When asked to review the Genesis model at-home soda machine from SodaStream, I thought it might be a nice appliance to have on hand for occasional use.  Truth be told, its versatility to make more than just soda, and its simple, fast, operation have made it a favorite small kitchen appliance in our home. And, the SodaStream's ecological, reusable BPA-free 1 liter bottles make the environmentalist in me happy too!  🙂  Who knew making your own soda and flavored carbonated water at home could positively impact not only your taste buds, but the environment as well?
How Does the SodaStream Genesis Work?
Setting up and using the SodaStream is a cinch.
1) Insert the Co2 canister into the SodaStream unit (during initial set-up only).
2) Fill one of the heavy-duty, reusable 1 liter bottles with regular tap water.
3)  Screw the 1 liter bottle onto the SodaStream unit.
4) Press the button 3-4 times until you hear a loud buzzing sound.  Presto!  You've got carbonated water.
5)  Slowly add the flavor syrup of your choice, and your soda or flavored carbonated water is ready to enjoy.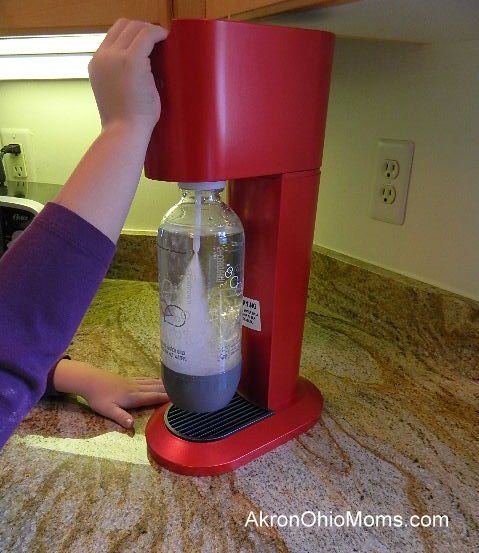 This unit is so easy to use that my two girls (ages 10 and 5) can pretty much run it independently.  And, there is no electricity required with this appliance.  How nice to not have to search for an open plug when we want to use the SodaStream.  I also love that the unit has a stream-lined design, and takes up minimal counter or storage space.
We recently had a First Communion party for my daughter (see my review of Old Carolina BBQ Catering here).  I thought it would be fun to allow the kids at the party to pick a few SodaStream flavors of pop, and to have them help me make the soda.  They, of course, thought it was cool.  What surprised me was that our adult guests were so intrigued that I found myself doing demos of how the product worked for them!
For our adult crowd, they loved the convenience of being able to make their own soda on demand.  Donna, one of our retired friends said she drinks one soda a day.  She loved the idea of being able to make it fresh at home in smaller bottles. She was eager to test the flavor of the SodaStream's Cola flavor.  She and I made a fresh batch, and both of us were impressed with the flavor.  Sometimes off brand colas miss the mark.  Both of us really enjoyed the flavor of the SodaStream Cola.  I wouldn't be surprised if Donna already bought her own SodaStream machine!
Our family has also tried the Pink Grapefruit Diet Soda, the Ginger Ale, Diet Cola, Orange Soda, and Black Currant and Pear Soda so far.  While we each have our own #1 favorites, we agree that all of the flavors are generally very good.  We love that SodaStream has all the popular flavors, and has also developed some of their own special flavor combinations.  I mean, who ever heard of Black Currant and Pear soda? Let me tell you, it is delicious!
SodaStream Makes More Than Just Soda
I drink lots of water daily.  Especially during the summer, I love to switch up my regular water consumption with some bubbly, flavored water.  The fact that SodaStream has their own line of "mywater" – all natural, unsweetened fruit flavors to add to sparkling water – was a huge selling point for me.  The 3 flavors in the mywater line – Orange, Raspberry and Lemon-Lime – have no calories, no carbs, and no sugars.  They simply add a splash of natural fruit flavor to wonderful water.  For folks like me who are watching their calorie and sugar intake, the mywater line is a fantastic, healthy option.
SodaStream also recently came out with a bunch of fun Kool Aid, Country Time, and Crystal Light Flavors.  Now we can enjoy these classic flavors with the new twist of a bit of bubbles!  🙂 How's that for fun?!
Last but not least in the SodaStream line up is their "Sparkling Naturals" line of flavors.  All flavors in this line are made with all natural ingredients, no preservatives, and no artificial flavors or colors.  This line includes flavors like Naturally Sweetened Cola, Apple Mango, Ginger Ale, Root Beer, Pink Grapefruit, Green Tea, Orange Pineapple, and more.
Make SodaStream Soda at Home, Save Money, and Help the Environment
Who knew making your own soda at home could not only taste great, but also save you money, and positively impact the environment?!  Making your own soda and sparkling water at home with just tap water and the SodaStream carbonator has an average cost of 25 cents per can of soda and 25 cents per liter of sparkling water.
Plus, no lugging home heavy 2 liter bottles or cans, and no plastic or aluminum waste going into your trash or recycling bins.  Further, less bottles and cans purchased at stores equals less waste and pollution generated in making and transporting the bottles and cans to your local stores.  Fantastic!
Buy the Genesis At-Home Soda Maker from SodaStream
You can purchase SodaStream machines directly from their website, at on-line retailers like Amazon.com, and at local retailers like Target, Walmart, Costco, Bed Bath and Beyond, JCPenney, Macy's, Kohls, Sears, and MANY more.
This was not a paid post. My own opinions were used based on my perceptions and experience. Thank you to SodaStream who provided the products for review.