I wanted to give you an update on the occupancy sensor switches we installed last month in two rooms of our home. I've never had an occupancy sensor switch in my home, so I didn't know what to expect. All I can say is that now, I want them in every room! We save electricity, plus it is so convenient.
I received Lutron switches and a promotional item to facilitate this post.
We installed the Lutron Maestro Occupancy Sensor C.L Dimmer in our dining room (switch pictured above in adjoining hallway). It is amazing! I feel like royalty whenever I enter and leave the room. The lights come on when I need them and then dim off after I'm gone. "Oh, you shouldn't have" is what I want to say when the light turns on for me. 🙂 We've really enjoyed the novelty of it all, can you tell?
Our dining room is located next to our family room. After we grab a snack from the kitchen, on the other side of the dining room, it is nice to have the lights automatically dim and turn off once we get to the family room.
After we watch a movie during movie night and head to the dining room, the light turns on for us. No more fumbling for the lights. I just love the convenience.
It has caught be off-guard at bed time. I have asked my husband several times during the first couple weeks, "Who left the lights on downstairs?" and then realized it was the dining room light. I even went downstairs once to turn it off. It is nice to have the light from the dining room shine up into the hallway so we don't disturb our children with the bright hall light at night too.
We installed the Maestro Occupancy Sensor Switch in our kids toy closet. I thought it would help my kids while they carry their toys and crafts in and out of the toy closet. The light was always left on. I gave my kids the excuse that their hands were full when leaving.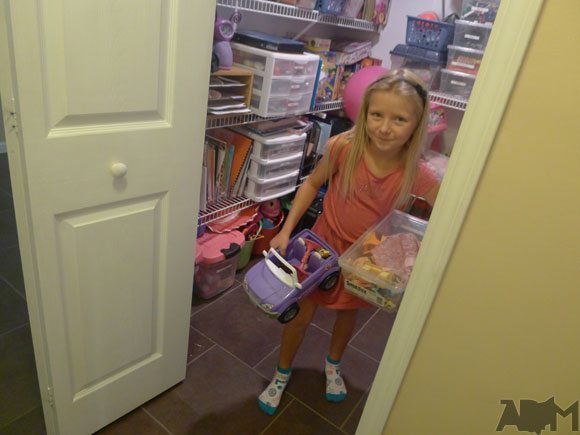 I know they like the light but I've really noticed the benefits myself. When I am putting toys away or getting crafts out for my kids, I keep getting surprised that the light comes on for me. It makes life so easy, especially while carrying large handfuls of toys and materials. I just love it in this much-used room. It would also be fantastic in our kids' bathroom. The light is always left on. It would be great to have the light go off when nobody is in the bathroom. I'm sure this is the room that we all complain about lights left on – it is the echo heard across the country, "Who left the lights on?"
Now that we've enjoy Lutron, I can't imagine those rooms without the occupancy switches. I love that we aren't wasting as much electricity. 90% of Americans admit that someone in their house leaves the lights on.
I want to upgrade several other rooms as well. Once you get one, the benefits are easily seen and makes you want to get more. The kitchen is the room that has the highest rate of leaving the lights on at 49%. I know this is true in my kitchen. I would really like to have the Maestro Occupancy Sensor Switch  installed on the recessed lighting in our kitchen.
I'm just as guilty as anyone for leaving kitchen lights on.
In case you are wondering, anyone can install Lutron occupancy switches. It is easy, watch our video and check out the photos from my original Lutron post.
Lutron Coupon Code
Receive 25% off Maestro occupancy/vacancy sensor dimmers and switches on LutronStore.com. PLUS receive a FREE Claro single-gang wallplate ($4.90) with each qualifying item when you use Lutron Coupon Code: wholeftthelightson
Lutron Coupon Code expires on Sunday, Oct. 31, 2013
Learn more about Lutron on their Facebook page.
Win Lutron Maestro Occupancy Sensor C.L Dimmer or Lutron Maestro Occupancy Sensor Switch
5 lucky winners will receive their own Lutron Maestro Occupancy Sensor C.L dimmer or Lutron Maestro Occupancy Sensor switch.
a Rafflecopter giveaway

This promotion is in no way sponsored, endorsed or administered by, or associated with, Facebook. In order to comply with the latest Facebook Promotion Guidelines (revised 5/11/11), the following statements are true:
* Giveaway participants release Facebook from any responsibility whatsoever.
* Giveaways on this blog are in no way sponsored, endorsed or administered by, or associated with, Facebook.
* Giveaway participants are providing information to this blog and giveaway sponsors only; not to Facebook.
30 Day Winning Rule applies. For complete contest rules, please see our Contest Statement and Blog Disclosure.
Contest ends at 11:59pm EST on October 12, 2013 when a winner will be drawn at random. I will notify the winners and they will have 24 hours to respond or another winner will be selected!
I participated in a campaign on behalf of Mom Central Consulting for Lutron. I received product samples to facilitate my review as well as a promotional item as a thank-you for participating.