I checked the weather this morning and guess what? The temps are forecasted to be in the 60s and 70s this week! So you know what that means: it's time to break out the short sleeve shirts and tank tops! You may be ready for the warm weather but are your arms summer-wardrobe-ready? With this simple, at-home arm workout designed by Jennifer Devillers and Jolie Kobrinsky, celebrity fitness trainers and founders of The Prime Method, you can have sexy, summer ready arms and shoulders in just 4 weeks.
Jennifer and Jolie's workout can be done at home with minimal equipment—you, a mat, and a little bit of time is all that's needed. And depending on how much time you want to (or can!) devote to the regimen or what results you are looking for, the ladies of The Prime Method have broken down the workout into three levels. Doing one round of the workout three times a week will have you t-shirt ready in no time. For tank top ready arms, do three rounds, three times a week. And to rock a strapless top or dress this summer, bump it up to five rounds of the workout three times a week.
The Moves
T Pushup (10 reps per side)
-Start in standard pushup position with your hands directly under your shoulders.
-Slowly lower into a pushup and hold the movement for a few seconds.
-As you push yourself back up, rotate your body and support yourself on your right hand, stack your feet, and extend your left hand into the air creating a 'T' with your body, a straight line from one hand to the other (as seen below).
-Rotate back down to a pushup position. Repeat on the other side.
Trainer tip: Tighten your glutes, quads and abdominal muscles to keep your hips from sagging during the movements.
Push Plank (10 reps)
-Begin in child's pose on the balls of your feet and your knees with your arms extended on the floor in front of you.
-Push forward with your butt down and your chin tucked until you are in plank position. Have your elbows at your ribcage and hands underneath  your shoulders.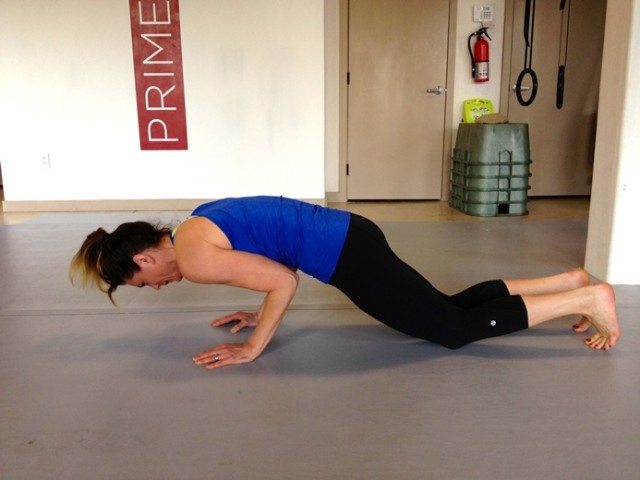 -Using your palms, push back to starting position, driving your glutes into your heels.
Rocca Press (10 reps)
-Begin in a wide Downward Dog position with your weight on the balls of your feet.
-Lower the top of your head to the floor by bending your elbows back to a 45 degree angle. Press back up and repeat.
Trainer Tip: Keep your back flat, tummy tucked and quads tight during the exercise.
Forward Ellipse (10 reps)
-Begin on all fours with your knees lifted off the ground.
-Shift your bodyweight forward until chest is beyond your hands.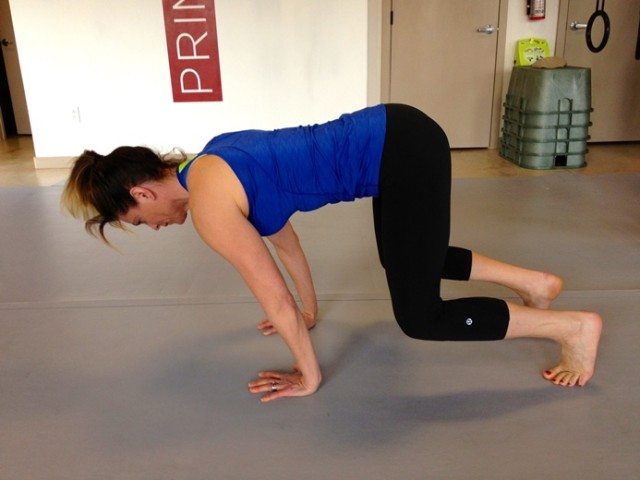 -With a swooping motion, push your chest down towards the mat and exhale.
-Hover backwards, grazing the surface of the mat until your butt and your heels meet, returning to starting position.
Trainer Tips: Adjust the difficulty of this exercise by how far past your hands you go in step 2.
Drive forward with the heels of your palms and keep wrists straight.
Keep you back flat, tuck your butt, engage your abs and keep your glutes engaged.
Band Assisted Pull Up (10 reps)
(Note: additional equipment is needed for this exercise, including a pull up bar and a resistance band)
-Grab the bar with a grip wider than shoulder width apart. Keep shoulders down while engaging the upper muscles in your back.
-With your arms straight, hang from the bar and squeeze your shoulder blades together.
-Loop a band under one knee to help you bring your chest to the bar, then slowly lower yourself using control and pull the bar toward you.
-Slowly and with control, lower yourself, stopping just before your shoulders come up. Repeat.
Trainer tip: Using a count of 5-6 will completely exhaust the pulling muscles in your back as well as your biceps.