Sometimes I feel like I spend more time in the kitchen than anywhere else! Making three meals a day, plus snacks and cleanup in the kitchen can be exhausting, especially on my feet and legs. If I stand for long periods of time on my hard kitchen floor, my legs get so tired and achy. That's why I have been using the GelPro comfort floor mats in my kitchen for the past year.
I received product to facilitate this post.
Best Kitchen Floor Mats Ever by GelPro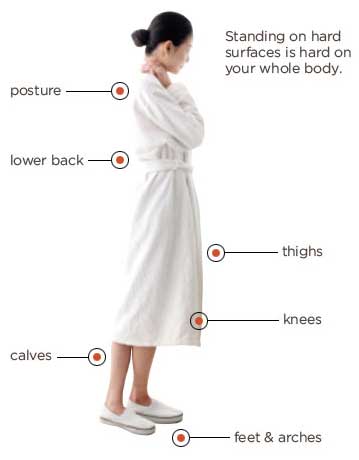 You may not think having a quality floor mat can do much for your kitchen but you'd be surprised. We've all experienced tired legs and feet, and maybe even back pain when preparing for a large meal or party.  The fact is, standing for a long period of time on a hard surface can cause stress on your whole body. No wonder moms feel so exhausted!
Not just any rug will do – they aren't all created equally.  The GelPro comfort floor mat are ergonomically to absorb shock on your body and extra support you need.  I guarantee that you'll notice the difference – and so will everyone in your house whenever you stand on it. I get more compliments on my GelPro mats over the past year than any other product in my kitchen! Seriously – a floor mat!
GelPro Mats are Amazingly Comfortable!
I actually have two GelPro mats, the GelPro Elite by my kitchen sink and the GelPro Ergo by my bar for food prep work. Both are easy to keep clean, you can throw the Ergo in the washing machine. I like the new Elite best by the sink because it wipes clean with a towel.
Some of us like to know the science behind why it is so comfortable. If that's not you, skip down to the styles! 🙂 The reason GelPro is so comfortable is because it is constructed of revolutionary gel core that distributes your weight evening to relieve stress on your body. They went through hundreds of prototypes before they got it perfect with their proprietary shock-absorbing gel core.
See for yourself:

The GelPro comfort floor mats are stylish too, available to match any kitchen decor. I chose a wood-grain design that blends into my floor plan.  My new GelPro Elite comes in 6 different colors. GelPro offers dozens of other styles, sizes, and types of mats for your perfect combination.
A must for all is that the mats don't slip around on the floor either. The mats have a high-traction bottom surface that is certified by the National Floor Safety Institute. Safety and comfort is key!
GelPro Ergo Comfort Rug is made in the USA.
Like GelPro on Facebook
Follow GelPro on Twitter
Buy GelPro Ergo Comfort Mat
Say goodbye to tired feet, legs, and back and purchase the best kitchen floor mat ever!
You can buy GelPro Elite Comfort Rug on the GelPro website for just $119.95. in a 20″ x 36″ size (20″ x 48″ coming soon).
It makes a perfect gift too for busy moms, chefs, and anyone with back, leg, and joint pain.
This was not a paid post. My own opinions were used based on my perceptions and experience. Thank you to GelPro who provided the product for review.