A 7-1/2 foot, 171 pound Crocodile was spotted swimming toward 16 children in an Ohio creek a few days ago! Two local moms reveal the entire story of the crocodile encounter. They never expected to see a crocodile, especially a 7 foot crocodile in Ohio! Who would?!
The crocodile story began as a fun end of summer celebration for 16 kids ages 6-12 in the program S.O.W.E.R.S. (Students of the Well Exploring Real Science). The kids were to play in Bantas Creek in West Alexandria, Ohio (near Dayton, Ohio). 3 Adults stayed on the bridge to oversee the children playing including Ohio mom, Lauren pictured below with her husband Rich who was in the water with their son.
3 adults, including Michelle and Jeff (pictured below) went down to the shores with their son and the rest of the children. 
I spoke with both Lauren and Michelle about the crocodile encounter and how their group got to safety! As a mom of two children, I am always trying to protect my children but never have I worried about a 7-1/2 foot crocodile in an Ohio creek! I asked the moms what they thought when they first saw or heard about the crocodile.   Michelle recalls, "We had been there no more than five minutes, and Sean (one of the adults on the bridge), joked after one of the kids lost their shoe, that there was a crock in the water.  We all laughed."  Shortly after, he spotted something in the water and alerted the adults and kids to get out of the water.  He didn't explain why but firmly and calmly told them, "Kids, you need to get out of the water and up onto the bridge right now."  The adults and children obeyed immediately.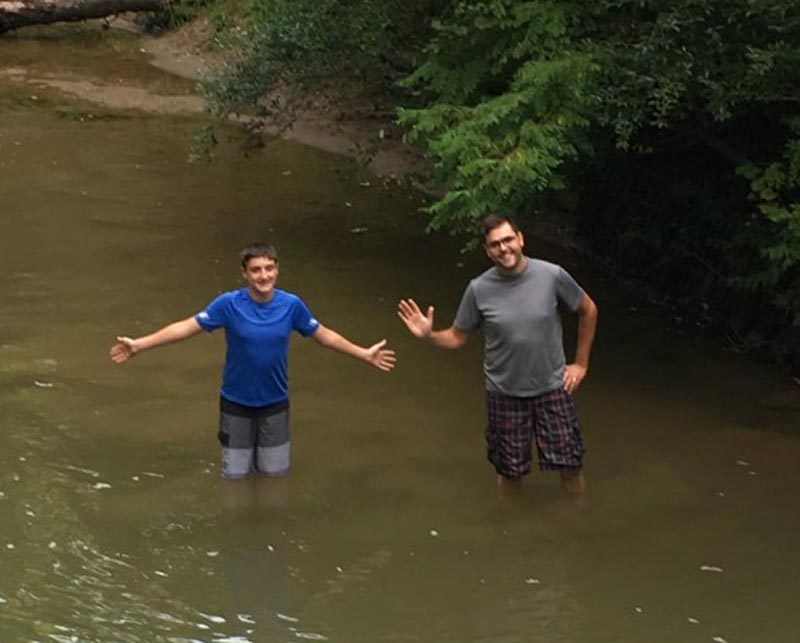 As the last child stepped out of the water, everyone could see the outline of a crocodile swimming towards the group, about 20 feet away in the murky water. At first, they thought it was an alligator and were surprised it was swimming toward the commotion. (There have been alligators sighted in Akron, Ohio). The crocodile was not afraid of the people, stopping at the bridge to look at them. One person told them that had the kids not been so calm coming out of the water, that the predatory instincts of the animal would have really kicked in to not lose its prey…  they can swim in short bursts 15-18 mph!
Lauren recalls the children were confused about why they were being told to get out of the water but they obeyed. Nobody wants to imagine what could have happened if they didn't quickly obey. Lauren also recalls that the entire crocodile encounter didn't really sink in for hours, after telling the story to church members and others, he has really sunk in about the danger they were in and God's protection over them.
Once the children were safe on the bridge, ODNR were called and were on site within mere minutes. Unfortunately, it was getting dark and Wildlife Officers in Ohio are not equipped to deal with crocodiles or alligators. It's not what they encounter in Ohio as crocodiles are not native to Ohio. The sad fact is that someone put this innocent creature (although potentially deadly!) into this situation. Likely, the owners had this exotic pet as a baby and when it grew to 7-1/2 feet, they couldn't handle it any longer and released it. The animal was examined and there was not a microchip that is required for exotic animals in Ohio. With the fear of the crocodile escaping and putting other local people in danger, the crocodile had to be put down and was shot in the water. The children were taken away from the crocodile and did not witness it being put down.
This group, S.O.W.E.R.S. of Jacobs Well Fellowship and Hill Top Equestrian Center where they were meeting are Christian organizations.  Every week, they examine the evidence of God in creation. Take a peek into this week's lesson from mom and leader, Michelle:
Our word for the Summer is "light" and I explained that many predatory fish are extra active at night, when all the "lights go out".  I explained how fish are much less dependent on vision than humans and that their lateral line, which is comprised of individual sense organs acts as a sense of "distant touch".  Plankton and bait fish will gravitate towards fixed lights whether for feeding purposes, or the safety of being somewhere well lit where they can more readily see their predators.  We also talked about their eyes not being able to adjust to light the way our human eyes do, because their pupils are "fixed" and often those that stray from the light to the shadows are "a little blind from the rapid decrease of light and predators can clean them up."
We discussed why we come to church, why we should be reading God's Word, and even why we do what we do at S.O.W.E.R.S. because God gives us very real pictures of Him and His Church using His creation.  From our lesson, "Christians get fed spiritually by God through His Word and at church so we can all grow up into mature Christians that will help feed others from the Word of God, so that Christ's work continues through us until He returns.  Our Christian brothers and sisters help trim off those ugly parts of our lives, or the sin and darkness that Satan would like to use to trap us all over again… the things that would keep us from being useful Christians."  We talked about the authorities that God has placed in our lives for our good and our safety, and we read through 1 John 1:5-9 and 1 John 2:9-10 and conveyed the fact that those who choose to remain in sin, or say they have no sin, hate the Light (Jesus) and won't accept His teaching, or His authority within the church.  These will eventually avoid the fellowship of the body and the teaching and reading of His Word because it's not comfortable.
We summed up the lesson, saying, "So, what does this all mean?  Guys, we need one another, we need God's word and we need His church to operate effectively within this world's system.  God's Word gives us the light that we need for safety and guidance.  If we were to spend the majority of our time in the world, trying to make friends and be accepted by everyone, what would eventually happen?  What happens to the little bait fish that stray from the light to the shadows?  Just like in the streams, our enemy does not like the light.  He likes to hang out on the edge in the shadows where he's less likely to be seen by those he would like to attack and eat.  So, stay in the well-lit area of His Word.  Read it and pay close attention to what it's saying so that you do not drift away from it into the shadows of the night where the enemy dwells."
The children understood the lesson very well and saw the picture that God was showing them using a crocodile.  They did not want to touch the crocodile, nor did they look at him as someone's friendly pet that had been released, but in those murky waters, they saw a predator, that just like Satan was there to do them harm.  My husband, Jeff, commented that "God made the lesson come to life," and He really did.  Another way of many that God has used in our small church body to bring glory to Him.  We and the kids talked and prayed throughout the evening, giving thanks to God for keeping us all safe and for allowing the obedient response to authority from all the children.  We also prayed for wisdom, guidance and continued safety for all of those involved.
I asked both moms if they will be getting back into that creek again anytime soon. Lauren and Michelle both agreed that they will return, of course with caution. They will inspect for any further evidence of other crocodiles or dangers but they won't live their lives in fear of the unknown. They believe that this crocodile encounter and the lesson surrounding it was "God's will for us in Christ Jesus and that our sovereign God causes all things to work together for good to those who love God, to those who are called according to His purpose (Rom. 8:28)."
We are so thankful that this story didn't end with a tragedy of children being harmed! It was not the crocodile's fault that he was released in the creek or that he is a predator.  It was irresponsible for the crocodile's owner to put all of the children and local Ohioans in danger by releasing this crocodile in Ohio's waters. It was irresponsible of the crocodile's owner to put his pet in harm's way and to be killed. It certainly wasn't the wildlife officer, Brad Turner's fault that the had to put the crocodile down either.
If you or someone you know has an unwanted exotic pet, do the responsible thing – don't release it in the wild! Contact ODNR!