Elijah, my 6 year old decided to grow his hair out earlier this winter. I already pleaded for help on how to grow a boys hair long. Below is a picture of Elijah's hair in January, when it was starting to get long.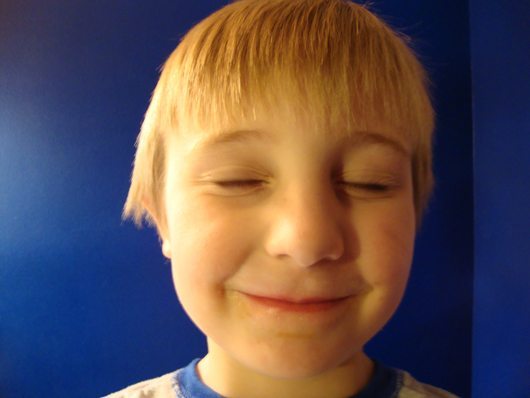 Thanks for all of the comments and facebook messages. As promised, here is an update on our continuing saga.
We had his hair shaped and trimmed all around, not just the bangs in February, it really made his hair look nicer and not so raggedy.
In March, Elijah's hair was getting into his eyes, making it hard for him to see without pushing it away from his eyes. We had to do something. Although people warned about giving him a bowl hair cut, we had to trim it – again. Here I thought a longer hair style would require LESS hair cuts.
Here is his before hair cut picture in March. The pictures doesn't really show just how much it was bothering him (and me!).
This time, they didn't shape and cut all of his hair, just did a bang trim. Yea, only $5!
His hair if finally over his ears and getting thicker so it doesn't flip up and out from his ears. It is starting to lay a lot nicer and not looks so sloppy.  Plus, when they did the bang trim, they didn't cut it straight across. They cut the front bang area so it was more jagged and more natural looking. We did not get a bowl cut effect!
I THINK that Elijah's obsession with growing his hair long like the kids at school will end soon. During the couple warm days we had last week, he was already complaining about being hot. I expect (and hope) to get his hair cut short or at least shorter this summer.
I feel like since we allowed him to try growing his hair out instead of saying no each time he asked that he feels like he has more control of his body, his decisions, and life. I think this was a good thing for him. Plus, since we let him, maybe the excitement will be gone and he won't really care what we do with his hair next school year. Who knows!