Are you looking for organic lip balms to protect your lips from the sun, wind, and cold?  Your lips are one of the most absorbent parts of your body. Using an organic product on your lips makes sense, you know that organic lip balms will not be adding chemicals to your body.  Eco Lips offers organic lip care products made with the highest quality certified organic ingredients. They offers a variety of luscious organic lip balms that protect and repair even the most severely chapped lips.  Besides the healing properties, Eco Lips organic lip balms offer a variety of flavors.
Eco Lips Organic Lip Balm
The Eco Lips Organic Lip Balm is available in a variety of flavors including Berry, Mint, and Sport. Perfect flavors for both men and women who want to protect and soothe dry, chapped lips.  Eco Lips Organic Lip Balm works naturally with certified organic ingredients to seal in the moisture and protect your lips any time of year. It comes with SPF 15 to protect against the sun's harmful rays.
You can also buy it with an Eco Clip to easily keep your organic lip balm within reach on your bag, purse, keyring, belt loop, zipper pulls, and more.  I have found the Eco Clip as a great way to keep the lip balm with me at all times. I clip the Berry Organic Lip Balm to my beach bag, so that I have SPF protection for my lips while at the pool or beach.
Eco Lips Organic Gold Lip Balm
Eco Lips Organic Gold Lip Balm is made with certified organic golden jojoba oil and is vitamin enriched.  It glides on smoothly, leaving lips soft and moisturized. I like that it doesn't have much of any scent.  Eco Lips Organic Gold Lip Balm is 95% certified organic vitamin enriched. It offers superior protection against the sun, wind, and cold.
Organic Chocolate Lip Balm
Now you can have chocolate on your lips all day with 0 calories!  Eco Lips Dagoba Organic Chocolate Lip Balms come in 3 flavors: Raspberry Dagoba, Mint Dagoba, and Lavender Dagoba.  I had the chance to review the Lavender Dagob. It has the flavor and scent of lavender oil, chocolate, and blueberry flavors. I have never tried anything so luscious in a lip balm.
Kids Organic Lip Balm
Eco Lips offers Kids Organic Lip Balm too in flavors kids love that is safe. In fact, the Pure & Simple line is 99% organic lip balm that is made with 100% edible ingredients! Don't tell your kids or they may want to eat it as they taste the Kiwi-Strawberry, Coconut, and Grape flavors.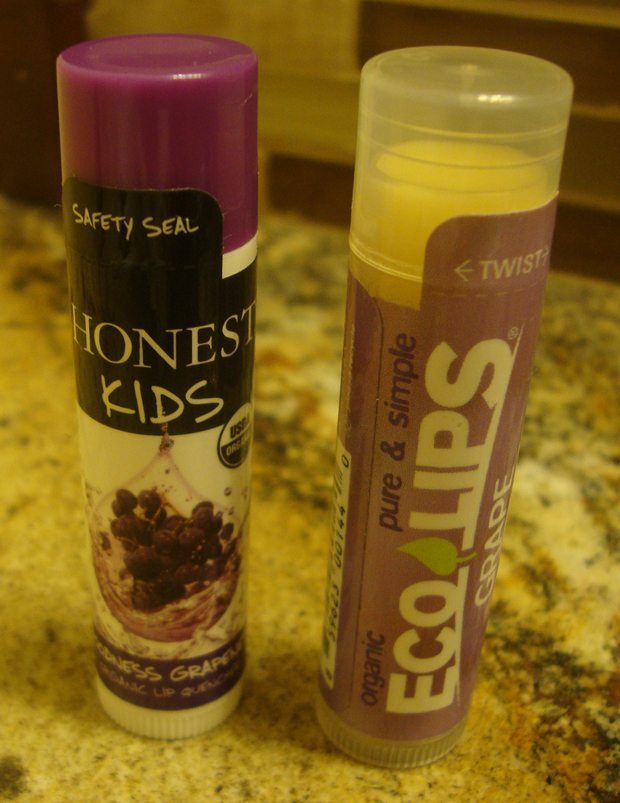 My kids liked the grape flavor when they tried it.  Getting my 5 year old girl to wear it is easy because she wants to be like mom and considers it "make-up". For my son, the flavor should be enough to get him to use it at least periodically this summer and for sure this winter.
Buy Eco Lips Organic Lip Balm
You can buy Eco Lips Organic Lip Balms on Amazon.com as well as at retailers. Find your location store here. In the Akron, Ohio area, it is available at the Solon, Ohio Mustard Seed Market.
There is lip balm for men too.
This was not a paid post. My own opinions were used based on my perceptions and experience. Thank you to Eco Lips who provided us with the product for the review and giveaway.