My kids have had such a fun Halloween. Thankfully we have done much of our celebrating already since it looks like trick-or-treating will be cancelled due to this week's weather from Hurricane Sandy!  All last week and today, I've been hiding sweet treats in their lunch boxes in cute Halloween bags that I found at the store. The first day I did it, my son got off the bus when he got home and the first thing he said was, "I liked my lunch today, Mom". He really appreciated it. It is the little things that we do that can really make someone's day. It doesn't take much to put a smile on someone's face that is hurting – either physically or emotionally.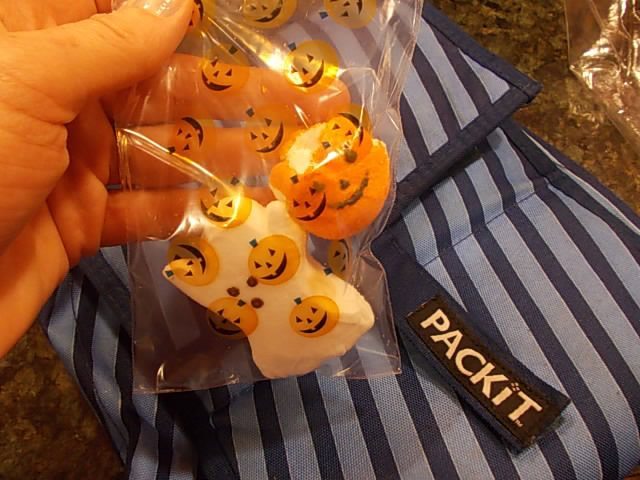 My dad has been suffering recently from Guillain Barr Syndrome. It is the #1 cause of paralysis without an injury. It has been a difficult time for him and my mom. It has caused him to be paralyzed in his leg for days at a time. Thankfully, he has responded well to treatment and is able to walk again.
As a little Halloween treat, I made up a little care package for my mom and dad. I included freshly baked chocolate chip cookie bars made with Ghirardelli chocolate chips- they were so yummy! I also included a little Halloween treat bag with their favorite candy and a Kleenex Care Pack. They were so surprised and it seemed to make their day!
I posted about the #KleenexCare Care or Share Pack previously.  It is a program that Kleenex is offering for their customers to show how they care by giving you the chance to send a free care or share pack for free.
I know you are going to be purchasing tissues this season – 'tis the season!  Be sure to pick up the softness that can't be beat with Kleenex brand tissues.  Not only will you get America's favorite tissue but you will have the chance to show someone you care with a #KleenexCare Care or Share Pack.  Be sure to purchase a specially marked Kleenex brand bundle pack or tissue box. To redeem your share or cake pack, visit  Kleenex.com and enter your code from your purchase.  Next, type in who you want to surprise with your Care or Share Pack!
Like Kleenex on Facebook to learn more about #KleenexCare Care or Share Pack.
What are the little ways you show people you care?
I really think it is the little things that you do for people that show how much you care.  Please share with us the things you do to show people you care in the comments below.
I wrote this review while participating in an ambassador program by Mom Central Consulting on behalf of the Kleenex brand and received product samples and a promotional item to thank me for taking the time to participate.