Check out this Almond Buckeye Recipe, it's delicious! It is a great alternative to peanut butter buckeyes for those with peanut allergies or looking for a buckeye recipe with less carbs and more fiber. Take a batch to your next holiday party!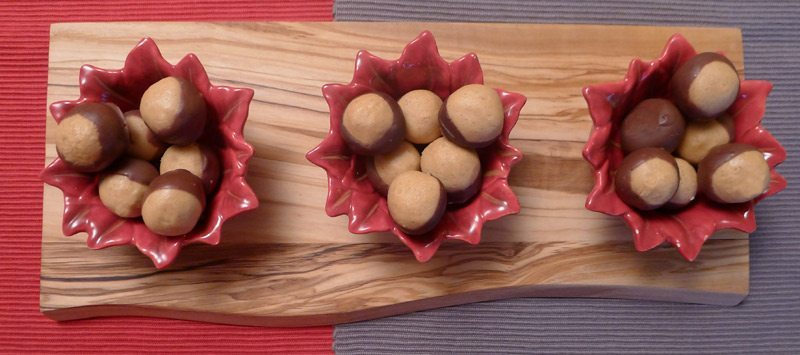 This is a sponsored post for Jif.
Almond Buckeye Candy Recipe
People of all ages love Buckeyes, with peanut butter or almond butter! If you aren't lucky enough to be from the great state of Ohio, you may have been missing out on this treat! Now is the time to see what you've been missing!
This is an easy recipe to make but allow time to form the buckeye balls, freeze, dip in chocolate, and then cool again. Prep time is only about 1/2 hour.
| | |
| --- | --- |
| | |
Cream together almond butter and butter with a mixer.

Stir in vanilla until combined.

Whisk together confectioner's sugar and cinnamon in a bowl, then add to butter mixture a little at a time, beating until sugar is incorporated into the dough.

You know you have added enough confectioner's sugar when the dough holds together when compacted and will stay on a toothpick.

Form 1" balls and place in refrigerator or freezer for 1/2 hour or until firm.

Melt chocolate chips and shortening together in a microwave-safe bowl on MEDIUM for 30 seconds, stir. Repeat until mixture is smooth.

Dip Almond Buckeyes with a toothpick into chocolate mixture, remove excess, and place on wax paper-lined tray.
This recipe is just as easy as traditional buckeyes and taste just as great using Jif Almond Butter. You could also use Jif Cashew Butter if you are trying to stay away from Peanut Butter. Both varieties are no-stir, creamy, and work great for everything from sandwiches to baking to candy making!
I like to make a batch ahead of time of parties and freeze them. When I have a party or unexpected guests, I can pull these tasty treats out and serve. My kids love it when I pop a couple in their lunch boxes too, they are only about 8 carbs each too.
Make it Gluten-Free! This recipe can easily be gluten-free if you confirm that the confectionery sugar you purchase uses a cornstarch or tapioca starch. Double check your chocolate chips too, usually Hershey's and Nestle brands are fine.

Check out other delicious peanut butter recipes on the Jif website. You can purchase Jif peanut butter at retailers nationwide. Get social with Jif on Facebook and Twitter.