Love BLTs? Then you'll love this BLT with Egg Pizza Pizza recipe from the Ohio Eggs website.  My family loves BLTs, especially with our home-grown garden tomatoes.  We also love pizza! This tasty combination of bacon, lettuce, tomato, eggs, and pizza is perfect for brinner (breakfast for dinner), breakfast, or brunch.
Earlier this summer I had the opportunity to visit with the folks from Ohio Poultry Association to learn great egg tips and recipes like this one.  There are so many tasty ways to incorporate the nutrition of 13 essential nutrients, amino acids, and high-quality proteins to our diet with eggs!
BLT with Egg Pizza Recipe
This BLT with Egg Pizza recipe is straight from the Ohio Eggs website, they call it the B.E.L.T. Pizza.  Using store-bough pizza crust, this tasty dish can be whipped up in just minutes.
| | |
| --- | --- |
| | |
Place the pizza shell on a cookie sheet or pizza pan.

Spread ½ cup ranch salad dressing on crust.

Add mozzarella cheese, bacon and tomatoes.

Sprinkle Parmesan evenly over the pizza.

Crack eggs onto the pizza, positioning one egg on each pizza quarter.

Bake for 12 – 15 minutes, until egg whites are just fully cooked. Allow to slightly cool.

Toss the lettuce with the remaining salad dressing. Season with salt and pepper to taste.

Garnish pizza with lettuce and additional cherry tomatoes.
I have never thought to incorporate eggs into a pizza before but it is a very tasty and new way to enjoy eggs for dinner.  Simply pick up a precooked pizza crust from the grocery store or make your own crust for this Bacon, Lettuce and Tomato with Egg Pizza recipe. Inside of pizza sauce, spread ranch salad dressing on the crust. Top with mozzarella cheese, cooked bacon (I bake bacon in the oven), and tomatoes.  Sprinkle with Parmesan cheese.  Finally, crack 4 eggs on top.
Bake at 450° for 12-15 minutes, until egg whites are fully cooked. While meeting with the Ohio Egg & Poultry Association, I learned that to prevent any risk of food-borne illness, make sure eggs are cooked thoroughly, until the white and yolks are firm. Salmonella is destroyed by the heat of cooking, so you don't have to worry about salmonella if you cook your food properly, food should reach an internal temperature of 160°.
This is a very easy recipe to make and one that your kids can prepare with you. My kids have always cooked in the kitchen with me since they were toddlers.  Now, they enjoy cooking simple recipes like this weekly for the family. Cooking a meal for the family counts as a chore, which I'm totally ok with!  I like that this recipe can be prepared and served in about 20 minutes too!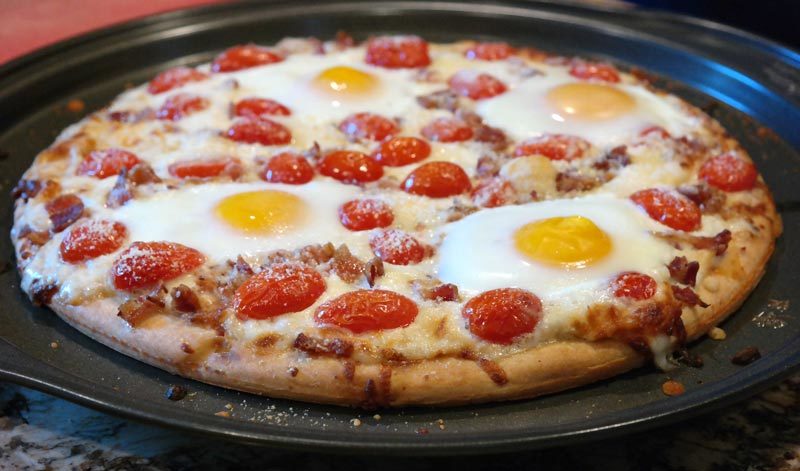 Toss lettuce with about 1 TBSP ranch salad dressing. You can use any type of lettuce, I prefer iceberg or romaine. You can top the pizza with the lettuce like below or add once the pizza is plated. This recipe is for 4 large slices. Depending on the size of your pizza crust and the appetite of your family, you may be able to cut in 5-6 slices instead of 4. If you do this, I suggest cracking enough eggs on the pizza so everyone will get one egg.
Find more delicious recipes with eggs as a main ingredient on the Ohio Eggs website. Get social with Ohio Poultry & Egg Association on Facebook, Twitter, Pinterest, Instagram and YouTube.