This is a quick and easy copycat recipe of the famous Starbucks Cinnamon Dolce Latte. With a few simple ingredients, you can make this deliciously sweet latte recipe at home – no fancy syrup, sauces, or even a coffee pot is required!
| | |
| --- | --- |
| | |
Heat milk until steaming in a small pot OR Microwave milk for 1 minute. Remove from heat and stir in cinnamon stick pieces. Allow them to steep for at least 5 minutes.

Choose your favorite Steeped Coffee flavor. Pour 1/2 cup hot water over the Steeped Coffee bag in a mug and let sit for a few minutes – up to 5 for a darker cup

Remove cinnamon sticks. Return milk to heat, stir in sugar. Wisk vigorously or use Vitamix Immersion Blender with whisk attachment, wisk until frothy.

Remove coffee bag from coffee mug. Pour cinnamon milk mixture over coffee.

Top with whipped cream and cinnamon-sugar mixture.
So, did I stump you when I said no coffee pot was required? The main ingredient of this recipe is Steeped Coffee! Steeped Coffee's pre-portioned, eco-friendly coffee bags allow you to steep a farm-to-cup brew nearly anywhere sans the machine, waste, or harmful chemicals found in powdered coffee. No need to give up high-end coffee. And, no need to run to Starbucks for a deliciously sweet Cinnamon Dole Latte either, not when you can make it home quick and easy at a fraction of the cost!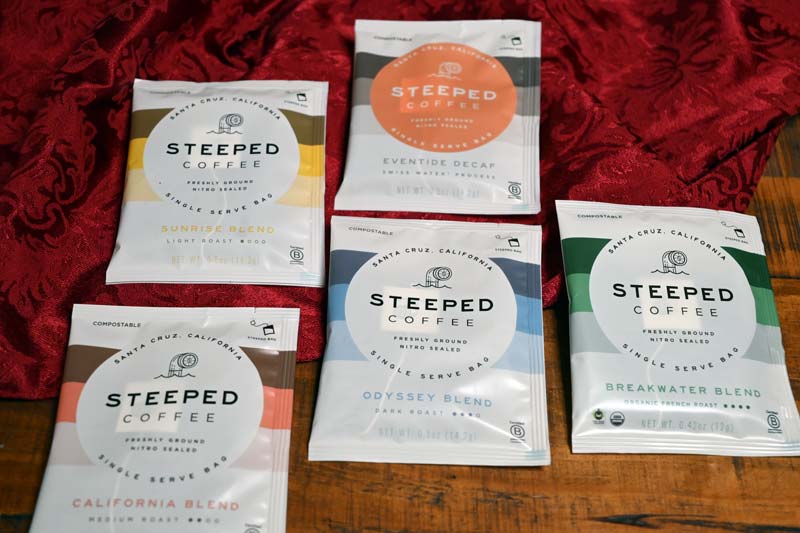 Whether you enjoy mild, medium, dark roast, or decaf, Steeped Coffee is a gourmet coffee you can enjoy anytime, anywhere. Although it is convenient and the perfect way to ensure coffee anywhere you go, the quality is top-notch. Steeped Coffee is locally-sourced and roasted micro-batch coffee one delicious cup at a time and is nitro-sealed to preserve freshness.
Brew Steeped Coffee similar to how you would tea.
Pour hot water over the Steeped Coffee bag and let sit for a few minutes – up to 5 for a darker cup. We love Steeped Coffee for a quick coffee when we are rushed for time, in the afternoon for a pick-me-up, and especially while traveling or camping.
This recipe can be prepared on the stovetop to heat the milk or in the microwave. Then, mix in the sugar with a whisk or for a frothier latte, use the Vitamix Immersion Blender! It provides a fast and amazing frothy latte with the milk and the sugar completely dissolved, giving this Dolce Latte the sweetness that you crave.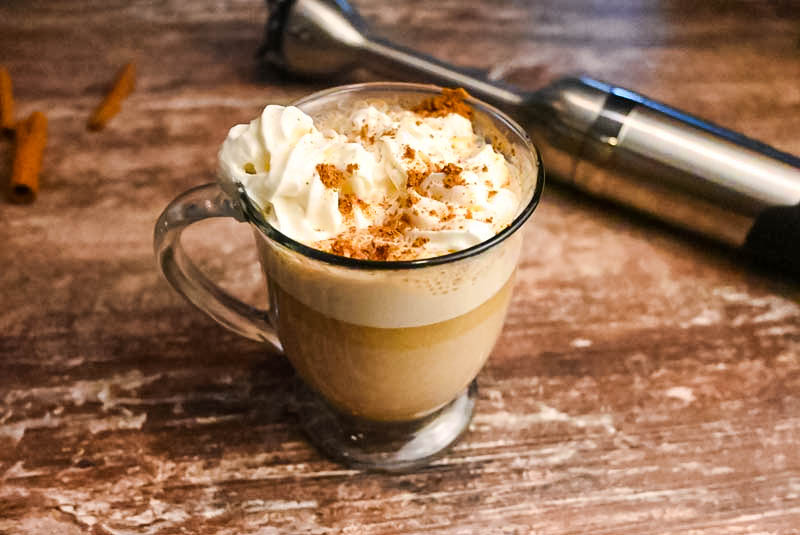 If you have a larger than 8 oz mug, you may want to increase the ingredients by 50%! You can use one Steeped bag for a full 8 ounces of coffee. If you have kids and a husband, you'll want to make a big batch. Just select the servings you want in the recipe above, and it'll add up the proper measurement of ingredients you need.
I hope you enjoy our version of this Fall favorite latte! Share your results in the comments below.
Find out more about Steeped Coffee on their website or with my reviews.