There are some recipes that my family enjoys that we've only enjoyed at restaurants. These are the sort of recipes that my mom never made nor have I heard of anyone making them at home – things like home-made sushi, chicken tikka masala, and egg drop soup. Take Egg Drop Soup for instance, it seems simple enough to make but have you heard of anyone making it at home? I haven't.
I received product to facilitate this post.
Easy Egg Drop Soup Recipe
I found this Easy Egg Drop Soup Recipe on the Davidson's Safe Choice™ Eggs website.
| | |
| --- | --- |
| | |
Bring broth and soy sauce to boil in a large pot; reduce heat to simmer.

Lightly beat eggs and pour eggs in slow steady stream into simmering broth while stirring constantly with spoon (stir in same direction).

Add spinach, green onion, and white pepper, to taste.
It is so easy that I have confidence that everyone can make it. In fact, you most likely have the majority of the ingredients in your kitchen.
Be sure to use Davidson's Safest Choice™ eggs because they are pasteurized, eliminating the risk of Salmonella in eggs before they even enter your kitchen – and your food! I started using Davidson's Safest Choice eggs years ago, especially in recipes that call for raw or undercooked eggs. Since the eggs are pasteurized, I feel confident serving dishes like egg drop soup with no worries of salmonella.
Once you bring the broth and soy sauce to a boil, reduce to simmer. Next, lightly beat 2 eggs.
Slowly pour the eggs into the soup base, stirring constantly in one direction. This will give the unique eggs swirls of egg drop soup.
Add spinach, green onions, and white pepper. It is that easy! Who knew making egg drop soup at home could be so easy – and more affordable than purchasing at a restaurant!
Try New Recipes at Home
Earlier this week, I wrote on How Not to Turn into Your Mother. Through research,  I learned that dopamine increases when you get out of the rut of making the same foods day in and day out and try something new. Not only does trying new recipes help me to not turn into my mother (whom I love dearly) but it also gives my family new food experiences.
Honestly, I have to admit that my son has spurred me on to try recipes that I've only previously purchased prepared. He attempted to make homemade sushi recently and did a knock-out job! It is good to learn from our kids sometimes, isn't it?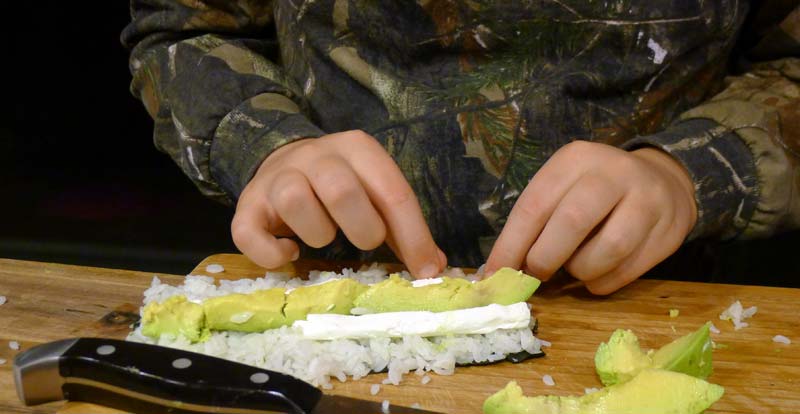 I was very impressed by my ability to make something new that I've only previously had at restaurants or take-out. Why didn't I attempt this before?
More on Pasteurized Eggs
Most eggs at the grocery store are not pasteurized. That is why you aren't suppose to lick the spoon when you make cookie dough – but who can resist?! I remember as a kid I always requested my portion of the batch of cookies in cookie dough! My mom never let me. It's funny because now my kids ask the same thing! ha! With Davidson's Safest Choice eggs, I let my kids lick the spoon with no worries.
I can let my kids lick the spoon because 4 out of 5 Salmonella entertidis foodborne illness cases come from raw or undercooked eggs. Since Safest Choice™ are pasteurized, the risk is eliminated. Yay!
Check out more recipes with eggs on the Davidson's Safe Eggs website.
You can find Davidson's Safest Choice Eggs all over the Akron, Ohio area including Giant Eagle, Heinen's, and Buehler's. Find the nearest location near you.
Connect socially with Davidson's Safest Choice Eggs on Facebook, Twitter, Pinterest, and Instagram.