As a mom who cooks 3 meals a day, every day for my family of 4, I need refrigerator space. I like to stock up on fresh vegetables and fruit to keep my family healthy. I like to have plenty of fresh meats and cheese available for healthy snacks and lunches. Unlike many homes in America, I do prepare a sit-down family meal every night of the week for my family. Sure, we occasionally eat out or have take-in but this accounts for only two or three meals a month. Having adequate refrigerator space has become a must for me – otherwise, I'm shopping for groceries twice a week.
Maytag 25 cu. ft. French Door Bottom-Freezer Refrigerator MFF2558VEW with BrightSeries™ Lighting Package Review
We were fortunate enough to have a gorgeous Maytag 25 cu. ft. French Door Bottom-Freezer Refrigerator MFF2558VEW with BrightSeries™ Lighting Package  installed in our beautiful new kitchen. My experience with the Maytag brand has been amazing with our Maytag Bravos washer and dryer, so I was doubly excited that it was a Maytag brand appliance.
The space opening in our CliqStudios Cabinetry was exactly 36″ wide, which was just enough space for the 35-5/8″ wide refrigerator to fit like a glove.  Thankfully, Cliq Studios had the foresight to design our refrigerator opening to be this standard, larger size!
The installers were amazing. They effortlessly delivered and installed this large capacity refrigerator in our kitchen for us.  It was so nice not to have to worry about doing it ourselves for a change!
The height of the refrigerator is 70-1/8″ to fit our 71″ opening. I absolutly love how this refrigerator looks "built-in". We do, however need to cut an opening out of the back of the kitchen wall to accommodate the dept of 35-7/16″, which has been on our "to-do" list since installing the cabinets last year.  Once we do this, it will give the kitchen a nice flush look.
I couldn't' wait to start putting the shelves in the refrigerator and the doors. The door bins are Pick-Off Gallon-Plus Door Bins – it will hold anything!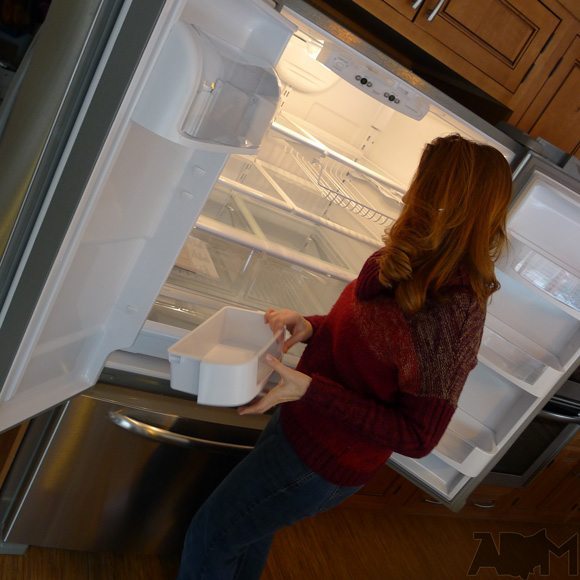 It is stunning, inst' it? Just look at all that glorious space!
Maytag 25 cu. ft. Stainless Steel French Door Refrigerator Refrigerator Features
Here are a few initial Maytag Refrigerator Features that I already love.
Exterior – The exterior is gorgeous with contoured French doors. Mine is in a stainless steel finish, it also available in white and black. I love how the stainless steel looks with the rest of our stainless steel appliances. The large contoured handles are easy to grip and open while matching our cabinet hardware and double oven handles perfectly – what a bonus! I also like the bottom freezer set up, this keeps all of the fresh foods at eye level.
Wide-N-Fresh Deli Drawer – I have never had a large deli drawer in any refrigerator that I have owned. It has always been that small hanging drawer that never has enough room for basic things like lunch meat and cheese. The Maytag Wide-N-Fresh Deli Drawer is amazing. Not only do I have room for all the lunch meats and cheeses, but I can even put a large party platter in this space!
There is a divider that is ideal in keeping our deli drawer neat and organized. I even put fresh chicken, ground beef, and other meats in the drawer. I've never had room for anything like that before. Plus, I can see everything at once because the drawer is so wide and spacious – no more sorting through piles of bags of lunch meat and cheese only to find that something went "bad" because it couldn't be found.
Humidity Controlled FreshLock Crisper- There are 2 Humidity Controlled FreshLock Crispers for vegetables and fruits. They are large, deep drawers that can fit even my family's fresh produce needs!
I was actually running a little low when I snapped this picture, but that was because I didn't have a lot of produce room in my previous refrigerator.  But the photos show you how easy it is to see the produce and how much can fit in the deep drawers.
When you can see the fresh produce – at eye level – and it looks this delicious – you are bound to reach for healthy food over junk food, right? I like how visible the fresh and colorful fruits and vegetables are with this Maytag stainless steel french door refrigerator.
The Humidity Controlled FreshLock Crisper controls the humidity specific for each drawer as set for fruit or vegetables. This keeps our produce fresher for longer – which reduces waste of fresh produce that could spoil.
Also, in the photo, you'll notice how easy it is to see inside the drawers – this is for a couple reason. #1 This Maytag refrigerator comes with a BrightSeries™ Lighting Package that is amazing. You can see everything day and night because this lighting package illuminates your fresh food with lights from all around.  #2 All of the shelves are adjustable tempered-glass. This makes it easy to see everything and great for spills that keep contained within each shelf.
As I continue to use this Maytag Stainless Steel French Door Refrigerator, I'll share with you the features that I like most, how my shopping habits change, and how my family uses it. I can already tell that it is going to make a lot of changes. My husband has already said, "It looks so empty, we need to go grocery shopping!"  Usually our refrigerators are so full you can't find anything, so this is a big change already!
Buy the Maytag 25 cu. ft. Stainless Steel French Door Refrigerator
You can buy the Maytag 25 cu. ft. French Door Bottom-Freezer Refrigerator MFF2558VEW with BrightSeries™ Lighting Package locally in the Akron, Ohio area at Lowe's, The Home Depot, M.A.S. Inc, Best Buy, H. H. Gregg, and Eastside Appliance, Inc. Find your local retailer here.
Also available on Amazon.com.
Find Maytag on Facebook
Follow Maytag on Twitter
This was not a paid post. My own opinions were used based on my perceptions and experience. Thank you to Maytag who supplied the product for review and the ongoing relationship with AkronOhioMoms.com. Check out the great selection of products at www.maytag.com.