I was a little frustrated with our home remodeling project today. Mostly because I was watching the HGTV Dream Home Giveaway special. What a beautiful home, I couldn't imagine living there. I wouldn't mind winning it though and will be entering to win daily! So, I'm not jealous of that home.
It is just that remodeling an entire home is a huge undertaking, especially when you do it yourself (even with the help of my awesome in-laws) and when you don't have unlimited funds and time to remodel it.
Sometimes a girl just has to whine a little, it's not that I am ungrateful for my home because I am. It's not that I feel entitled to a beautiful, flawless home like the HGTV Dream Home but nobody really is. I know that I should be thankful for what I have and I am. Still, I feel frustrated with home remodeling today.
What do you think about my floor plan?
After watching this HGTV special part way through, I began to question our floor plan. It has not changed since I posted it in my review of the Chief Architect Software review. I am just second guessing our choice to have the foyer open up into the dining room instead of the living room. Plus, the best view to backyard is in what will be the kitchen and dining room, not the living room. This is the best selling feature of the house – the view. Should the best view be from the kitchen or living room?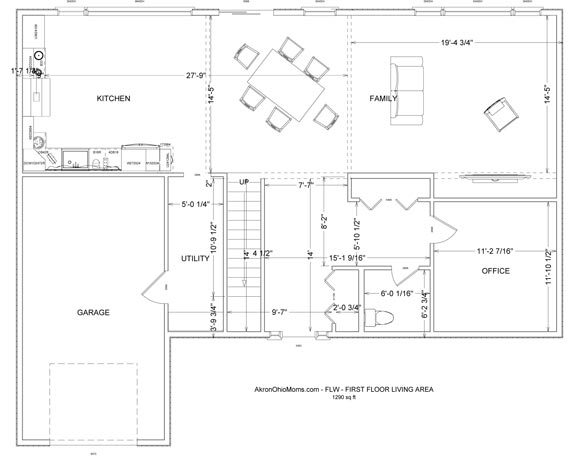 Plus, there is no real back door, just two side doors, which will be located in the kitchen and living room. So, now I am complaining about the aspects of the house that I dislike or don't know what to do with it. What I need is an architect to come in and give us direction.
My husband went right to work…
So, my husband went right to work, not on a home remodeling project. He decided to go upstairs, get out our decorating items out of storage. He hung up mirrors, our wedding needle point print that my mother-in-law made, photos, and a few other decorative items in the upstairs hallway and a few in our bedroom. We've been waiting to do this until the house is done so we would know what fits best in each room. Our kids bedrooms are remodeled, so their rooms are decorated but that's about it for the house until tonight. I'm so glad that he went ahead and hung these items. It really made the upstairs feel like "home" and not so much just a house.Thanks, Matt! Funny how he knows how to make me happy even if he won't argue with me about our floor plan. lol
So, now that the holidays are over, we will get back into home remodeling mode. I'm sure I'll feel better about our progress once we start tackling a new project. Hopefully I'll find out this week if I won the Pillsbury Crescent Cook contest so we can put that prize money toward the kitchen remodel. Keeping my fingers crossed. 🙂
Are you remodeling your home?
How do you deal with down days when it seems like nothing is getting done and it will never be finished?