The guest bathroom remodel continues. In my last post, I talked about how we had to remove the old sink, toilet, and shower. We also leveled the floor with concrete and built new walls, replacing the old drywall and built a new wall to make the bathroom smaller.
Creating a Sink Base with 2×4's
We built a sink base with simple 2×4's and a nice piece of cabinetry as the front. #1 This is a very affordable alternative to a cabinet or vanity. #2 This floating sink base will add to the beauty of the Elkay sink we have waiting to be installed.
On the opposite side of the bathroom is where we will place the toilet. This room is a lot smaller than the original full-bath, but more appropriate for a guest bathroom.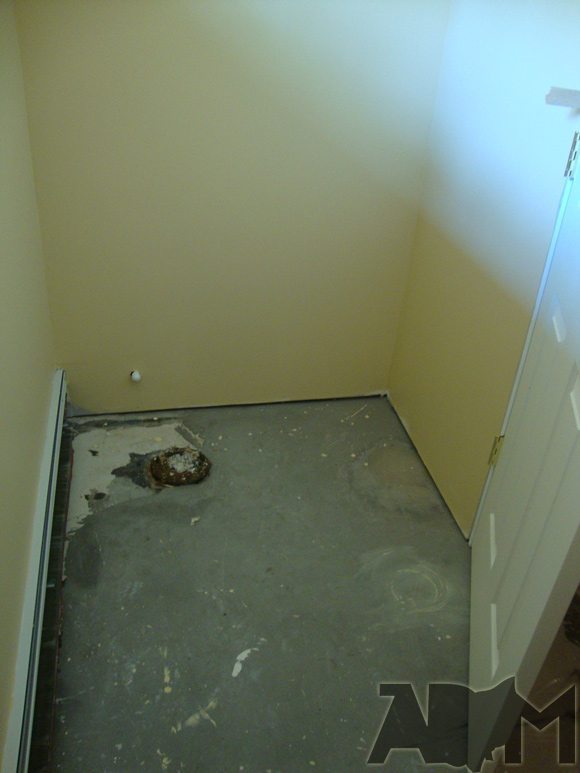 Installing Luxury Vinyl Tile
We installed luxury vinyl tile by Tarkett in our kid's bathroom remodel earlier this yer. I've been very, very happy with the durability, look, and feel of this product so far. Please read this article on complete instruction on How to Install Luxury Vinyl Tile. We are installing Tarkett's Luxury Vinyl Tile from the PermaStone Collection in Firenze Leather. PermaStone is designed to look natural with the feel of ceramic and stone. The Firenze Leather Luxury Vinyl Tile will be in our guest bathroom, foyer, and hallway between the  foyer and guest bathroom.
This tile can be laid with or without grout lines. I like grout lines, my husband hates them. In our first home, we had cream color ceramic tile with even lighter grout. It would get dirty and stained. I couldn't get it cleaned. I would get on my hands and knees and hand-paint all the of grout lines every few months. When we were selling the house, this was every few weeks! Yikes! So, he hates it. I, on the other hand, like grout lines. Since I am the self-proclaimed tile expert in the house, I win. 🙂 We plan to use a darker grout color, to this shouldn't be an issue.
Installing Luxury Vinyl Tile is a cinch. This is all you need: Tiles, Adhesive, Trowel, Snips, Grout, and Spacers.
We used Tarkett 800 Pressure Sensitive Adhesive on the floors.  It texture of a soft paste, it is easy to spread on the floor with a trowel. You must spread only a thin layer andlet it sit for about 1 hour for it to dry to a tacky, but not wet to touch.  Otherwise, it never dries, ask my husband! ha ha Another reason why I'm the self-proclaimed tile expert in the family. ha ha
I started at the entrance of the room since we will be adjoining this tile to the hallway. I didn't want it to be level from the wall outward, making a seam right in the doorway. I leveled it and marked off a line for the first 2 tiles. From there, it is easy to keep them straight and aligned when using the tile spacers. I chose to just do one small section at a time since I am a perfectionist.
Cutting around corners and edging couldn't be easier. With ceramic, you need an expensive tile saw that can be scary to use! With luxury vinyl tile, a good pair of snips will let you hand-cut the tiles.
Buy the Tarkett NAFCO Luxury Tile Flooring
You can buy Tarkett NAFCO Luxury Tile Flooring across the country. Find the location nearest to you by typing in your zip code here.
This was not a paid post. My own opinions were used based on my perceptions and experience. Thank you to Tarkett who supplied the product for review and the ongoing relationship with AkronOhioMoms.com. Check out the great selection of products at http://www.tarkettna.com.