Have you ever noticed how some home just have a rhythm and flow to them? Have you noticed how coordinating items can really pull the entire style of a room together? I have and this structure gives me peace in home remolding. I let the experts decide what styles work best together and I run with it. For instance, American Standard has been around for years designing innovative products with styles as modern or traditional as you are. They make it easy to choose a bathroom faucet.
How to choose a bathroom faucet
With American Standard's impressive line of faucets, there is a perfect faucet to fit your style and needs. The best way to narrow down your search is to decide on whether you want a single or dual handles. Next, decided the finish. Next, decide what your overall style is. They have everything from traditional to casual to modern. The American Standard website is easy to navigate and you can sort by price, style, and features such as ADA compliant.
Moments Monoblock Faucet
American Standard product lines work well together, matching your taste with styles to match. I am a self-defined as traditional with an element of contemporary & modern mixed in. We furnished our kids' bathroom with the American Standard Generations line of furniture which is traditional in nature. We selected the Moments Monoblock Faucet for our kids bathroom sink and coordinating faucet for the bathtub to add a more contemporary, modern element to the room. I think the results are astonishing as they are beautiful.
This faucet is a little more modern in nature, to fit with the Frank Lloyd Wright style that we are attempting to preserve in our house. This is a beautiful faucet from all angles.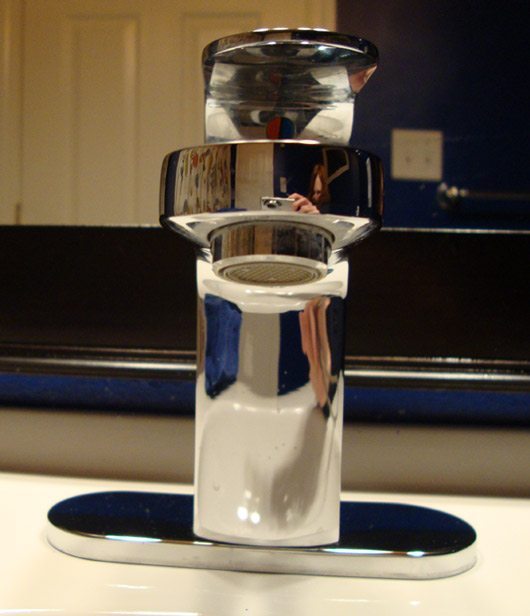 Don't mind the images of the photographer, myself in the following picture. I have no idea how to take a photo of such a shiny object without getting myself in the picture! LOL I really need to take some lessons or something!
Striking, huh? I just love the chrome finish and how shiny and remarkable it looks. Nothing says a clean bathroom like a shiny faucet, right? You can tell I like to polish fixtures, can't you? If you know of any excellent products that keep faucets free of water spots, please let me know! I'm struggling with hard water at this house…
So, not only does American Standard deliver gorgeous fixtures but also reliable products you can trust. They are built to last and to be drip-free. Yes! Their faucets are covered by a limited lifetime warranty on function and finish.
Easy Faucet Installation
They claim this is "the easiest faucet to install, guaranteed." My husband agrees. This one-piece design is simple to install, no surprises, nothing complicated. Remember to install the faucet before you drop the sink into the vanity if this is new construction. Much easier that way. If you have a tighter space, don't worry. The flexible stainless steel cable installs effortlessly even in small spaces.
Why we chose Moments Monoblock Faucet
So, why did we choose the Moments Monoblock Faucet specifically for our kids' bathroom? Yes, we like the style, however, safety is #1 for kids bathrooms. The Moments Monoblock Faucets has an Adjustable Hot Limit Safety Stop. What does this do? It limits the amount of hot water allowed to mix with cold. Genius! Now we don't have to worry about our kids turning the faucet on and ALL hot water coming out. I love that the safety stop reduces the risk of accidental scalding.
Also, the design is perfect for kids with little hands. The one-handle design makes it easy for kids to push up to turn on and back down to turn off. My 3 & 5 year old kids have no problem operating this faucet. Plus, it is ADA compliant.
Buy American Standard Moments Monoblock Faucet
You can purchase American Standard Moments Monoblock Faucet for $289-433 – through authorized showroom, retail outlets such as Lowes and Home Depot, and online at Amazon.com for $175. Available in Polished Chrome or Stainless Steel (PVD).
This was not a paid post. My own opinions were used based on my perceptions and experience. Thank you to American Standard who supplied the product for review and the ongoing relationship with AkronOhioMoms.com. Check out the great selection of products at www.AmericanStandard-US.com.