The highlight of our Rankin Ranch dude ranch vacation was horseback riding twice daily. The mountainsides, rolling hills, cattle pastures, and ranch is best explored while on horseback!
This is a sponsored post.
Family Horseback Riding at Rankin Ranch
Rankin Ranch accommodates riders at every level from the first-timers (most visitors are beginners) to the experienced. Children as young as 6 are invited to ride the trails with a parent (adults up to 250lbs).  The wranglers pick horses that are suited to each rider and normally you'll ride the same horse during your stay, unless you request otherwise. We loved getting to know our horses.
My kids love horseback riding, especially my daughter. She is a true cowgirl inside, always sporting her western boots to school. She was probably the most excited to go horseback riding in the hills of California. I love seeing that smile of hers! This is where memories are made, folks.
What I love about the horseback riding at Rankin Ranch is the unending supply of incredible scenery. There are many miles of trails to choose from and no ride is ever the same. They offer rides of every kind depending on the skill level of the rider from flat land to mountain trails. Experienced riders can go loping and trotting too.
The beauty of Rankin Ranch's 31,000 acres is unbelievable. Experiencing it on horseback is the best way to enjoy it but even then, there is so much to explore and see that you'd never fully grasp it – that is another good reason to make Rankin Ranch a family tradition for many return visits.
The terrain is changing and stunning. During this ride, we even rode through a creek.
Safety is their #1 priority, so they will never take you beyond what you are comfortable with. The wranglers are very attentive with one at the head leading the way and another riding alongside and behind to ensure everyone is having a good time.
The lush fields and mountain sides offer a stunning backdrop for our equestrian adventures.
We enjoyed riding along the sequoia trees, one of my family's favorite things to spot in this part of California. Rankin Ranch is at the south end of Sequoia National Forest, so there are plenty of sequoia trees throughout the property. We were able to secure a few pine cones that I can't wait to decorate with at home too.
All rides are about 1 hour long, which is the perfect length of time to really explore the landscape but not too long for inexperienced riders. There are morning rides and afternoon rides, twice daily except only once on Sundays. We weren't able to experience a lunch ride but for it sounds so much to ride to a destination, enjoy lunch, and then ride back. Those rides take you far as you combine your two rides into one.
I really enjoyed my horse, Max. He knew I was a little nervous so we had an agreement, he'd give me a gentle ride if I let him munch on a little grass along the way. 😉
Rankin Ranch is one of the oldest and largest family owned ranches in the West. This family owned ranch is 6 generations-led since 1863. While horseback riding in the pastures, we were able to witness how the cattle group together to socialize, eat, and drink. We loved seeing the baby cows the most!  The cattle are living the life at the ranch with vast amounts of pasture and hillsides to enjoy at the ranch.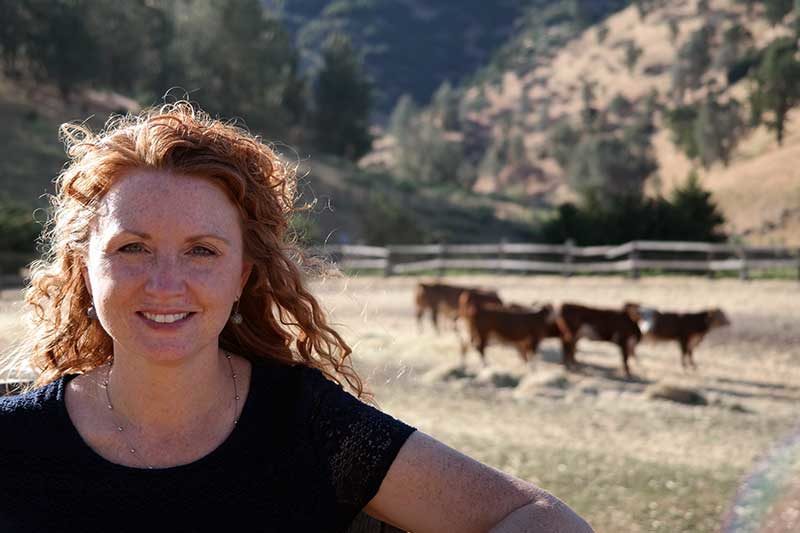 We were able to witness cattle being herded and loading up on a livestock carrier during our visit. Once the cattle reach a certain weight/age, they are then moved to Colorado or another location for their next growing cycle. We were reminded of a movie we watched as a family on Temple Grandin, the autistic woman who revolutionized the livestock industry as a young woman. It was so neat to see practices that she helped change be at work at the ranch.
Rankin Ranch is a remarkable place to spend time together as a family. There is so much to see, experience, and do at the ranch for every age. We have enjoyed the children's programing, swimming at the pool, hiking, recreation room and programs, deck games, lawn games, petting 'zoo', and especially the horseback riding. While at the ranch, we are miles from everything ordinary and busy.
A trip to Rankin Ranch is an amazing way to reconnect as a family and couple – without the distractions of life intruding in. Read more about why Rankin Ranch is a great family dude ranch vacation here.
Even if you've never been to a dude ranch or rode a horse, I promise that you'll have an amazing family adventure here. The western hospitality of the Rankin family will make you feel more like family than a guest at their ranch.  You'll never hear your kids say "I'm bored" as there is so much to discover. Consider booking your Rankin Ranch family vacation today.
Rankin Ranch
23500 Walker Basin Rd
Caliente, CA 93518
(661) 867-2511
Rankin Ranch is a member of the Dude Rancher's Association.
This is part of our Kidifornia Family Adventure Series. Follow us live June 17-28th on Facebook, Twitter, Instagram, and this Blog! We started our adventure in Nevada because of the new direct flights from Akron Canton Airport to Las Vegas on Spirit Airlines!