A visit to the Plimoth Plantation is a step back in time to the 17th Century.  Open from the 3rd Saturday in March through the end of November, there is always something new to learn and explore through the eyes of the Wampanoag people and pilgrims.
We received admission to facilitate this review.
Wampanoag Homesite
Our first stop at Plimoth Plantation was the Wampanoag Homesite. Here, we learned how the 17th century Wampanoag lived along the Eel River, near the coast.  We were able to meet with several Wampanoag family members who were performing their work as they would have years ago. We saw how toy dolls were made, how they cooked over an open fire, and even how they burnt out the tree logs to make canoes. The people at the Wampanoag Homesite are Native People from Wampanoag or other Native Nations, dressed in historically accurate clothing of the 17th century. They are knowledgeable and happy to answer any questions.
We were able to walk in several mat-covered called called wetu. We were so surprised at how large some of them where. They were basically bark covered home with large ceilings with vents on top for the open fires inside.
Along the sides of the wetu were raised beds for sleeping and living, on the beds were animal skins for comfort and warmth. My kids said they would like to sleep there.
It was fascinating to see how they burnt out the tree trunks to create canoes.  They hallow out many canoes every year at Plimoth Plantation! We also learned that the trees were much larger in the 17th century than now, allowing them to make canoes that could hold 20+ people!
17th Century English Village
Next, we visited the 17th Century English Village, connected by a path from the Wampanoag Homesite.  The English Village is set up like a small farming and maritime village set in the time of 1627, 7 years after the Mayflower arrived.
There are many modest homes built, all slightly different than their neighbors but all small with dirt floors and only 1 bed – for the parents, something my kids were curious about. They both agreed that they would rather live in the Wampanoag Homesite so they wouldn't have to sleep on the dirt floor!
During our journey through the 17th Century English Village, we met with costumed role players that played the part of the Plymouth Colony with life stories to reflect their character's life so many years ago.
There were even chickens walking all around to my kids' delight!
They speak as though you too are pilgrims. For instance, one lady asked my daughter if I had started teaching her stitchery. She was a bit appalled to hear I haven't and proceeded to teach her a simple stitch. Elizabeth enjoyed the one-on-one attention.
e sure to bring your questions with you for the best experience. Otherwise, the pilgrims go about their business. Ask about their homes, way of life, jobs, home life, child rearing, religion, education, cooking, the Native People, and more.  We learned so much during our visit – it was like taking a time travel trip to the past and meeting the people of their day. It made us all truly appreciate what they went through and how wonderful our lives are today.

All the homes had a garden for their backyard and/or farm animals. We were able to see the different kinds of vegetables and herbs they would have planted and how they would tend to and care for their gardens.
One gardener showed the girls the benefits of aloe for sunburns and bug bites.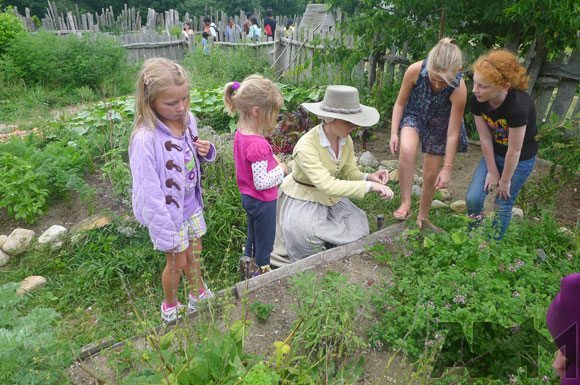 Plimoth Plantation Welcome Center
At the Welcome Center, we enjoyed shopping for souvenirs like rabbit hide (my son), starfish decoration (my daughter), and Christmas tree ornaments (me). They had amazing "Thanksgiving" decor as well as a variety of gifts for all.
Also in the Plimoth Plantation Welcome Center is the Family Discovery Center. Kids can try on Colonial clothes and play the role of pilgrims. My kids had a lot of fun cooking and cleaning in the kitchen. there was a shallop boat that kids could climb in and out of and even raise the flag.
They really enjoyed playing the role of pilgrim kids and looked so darn cute in their Colonial clothes!
If you are visiting Plymouth, MA or Cape Cod, MA, be sure to put Plimoth Plantation on your list of day trips. It is both educational and fun for the whole family. Plan to spend at 3-4 hours easily.
Like Plimoth Plantation on Facebook
Plimoth Plantation
137 Warren Avenue
Plymouth, MA 02360
Where to stay in Plymouth, MA.
This was not a paid post. My own opinions were used based on my perceptions and experience. Thank you to Plimoth Plantation who provided us with accommodations for review.