Experience the wonders of Mendocino County, California on the Skunk Train (AKA California Western Railroad). Traveling by rail is the only way to experience the deep primitive woodland to get an up close view of deer, blue heron, osprey, ducks, turtles, and river otters without leaving any ecological footprint. Many parts of this pristine land is only accessible by rail, offering untouched natural beauty.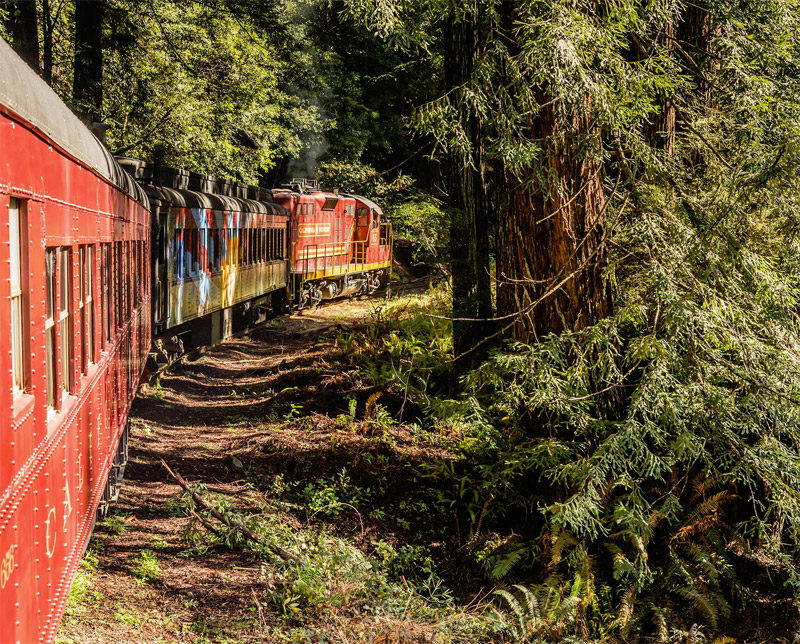 This scenic trip will take you through 40 miles of scenic beauty while crossing mountain streams over 30 bridges and meandering through California's towering redwoods.
The Skunk Train seems like the best way to cover a large area of California while vacationing. My family took a whirlwind California coast trip from San Francisco to LA, it was an amazing experience that left us longing to return for more adventure in the Golden State. Specifically, we want to experience more of the redwood trees. We were able to check out redwoods at Pfeiffer Big Sur State Park and thought they were huge.
Those redwoods don't compare to the record breaking Giant Redwoods in Northern California! Redwoods are so amazing, our house is built out of redwood lumber.
The Skunk Train offers several trips including a 4-hour excursion that runs 40 miles to just a short 1-hour trip. Either one will give you the taste of the wild west as you travel down some of the first tracks laid down by the California Western Railroad in 1885!
Year-round trips and even over-night trips are available for adults and children to experience that natural beauty and wonder of Mendocino County, California.
The Super Skunk will be rolling back out in Summer 2017 for those that prefer the historic Colorful Steam Engine No. 45, it's been out of commission since Fall of 2015 for a rebuild. What perfect way to experience California on your next trip out West.
If it is going to be a while before you make it out to California, check out our Ohio trains that offer fantastic family fun.
7 Ohio Train Car Restaurants that will Make You Blow Your Whistle