Massanutten Four Season Resort is a 6,000 acre mountain vacation destination just 1-1/2 hours from DC and minutes from Shenandoah National Park. Nestled within the Blue Ridge Mountains, the breathtaking scenery will take you miles from the daily grind. This resort offers family fun and relaxation with many, many entertainment and dining opportunities.
Massanutten Resort Regal Vistas Timeshare Video
This is a sponsored post.
Massanutten Four Season Resort is known for their timeshare properties. Choose from 1, 2, 3, and 4-bedroom private condominium rentals in this resort community.  We stayed in the gorgeous gated community of Regal Vistas. These 2-bedroom homes are wonderfully appointed with all the comforts of home with sweeping views of the mountains. 3 and 4-bedroom homes are currently under construction too.
Our timeshare rental had a large open floor plan with a spacious living room. The living room had a gas fireplace, flat-screen TV and floor to ceiling windows to take in the view.
The dining room is located off the kitchen and living room with plenty of space for 6 to dine.
Additional seating is at the bar.
The fully stocked kitchen has everything you need to move right in for the week. It was a pleasure to cook in this kitchen. I had everything I needed with cookware and serving dishes.
The master bedroom is quite the retreat with vaulted ceilings, floor to ceiling windows offering breathtaking views, a king size bed with modern linens, flat screen tv, and fireplace.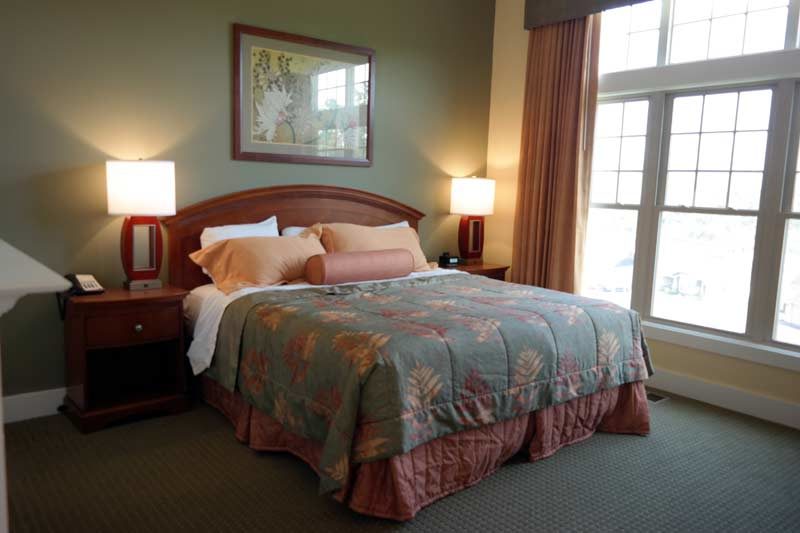 What a gorgeous master bedroom.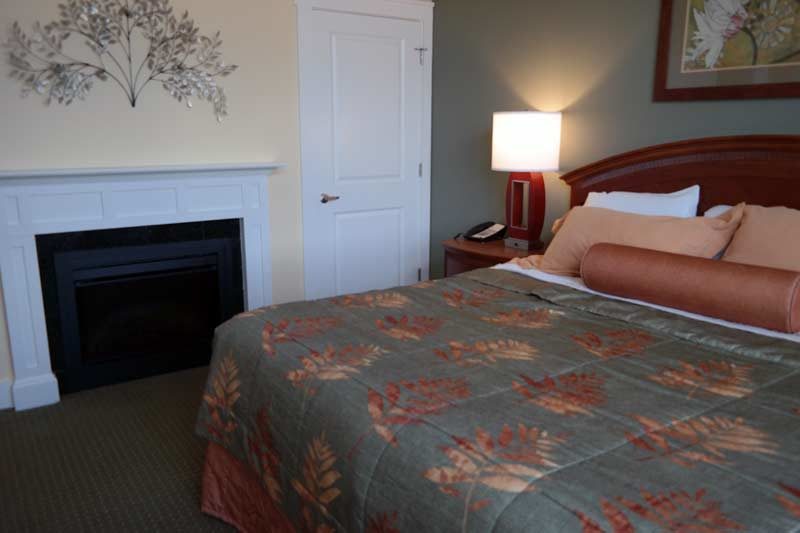 The adjoining master bathroom is just as remarkable with a Jacuzzi 2-person tub, large walk-in shower with rain shower head, and vessel sink.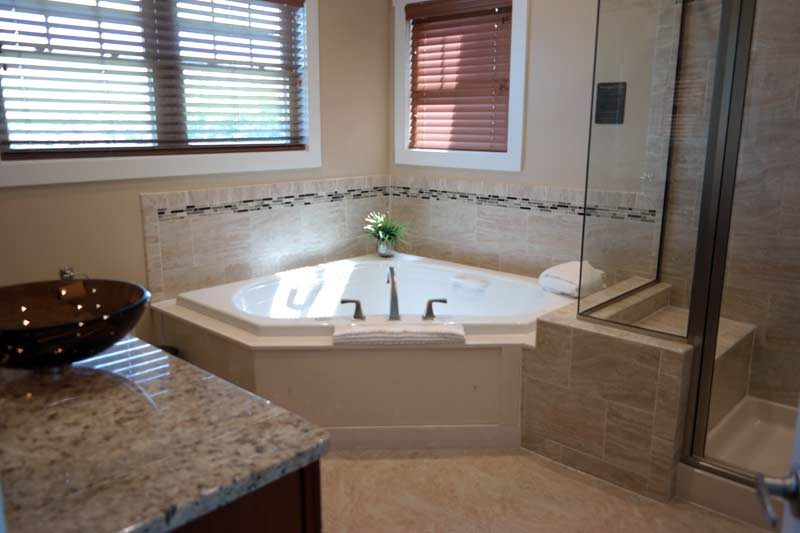 Again, the bathroom was spacious and exceptionally clean. It was fully stocked with towels – you can order additional towels and towel service, as needed.
Down the hair is the second bedroom. This beautifully decorated room also has a flat-screen TV and large windows for views.  The modern decor is inviting and relaxing.
The second full bathroom offers a bathroom/shower combo with rain shower head and a double vanity.
It is a very spacious bathroom as well.
As a mom, I really appreciated the washer and dryer! I was able to wash our clothes during our stay which meant I brought home CLEAN clothes instead of dirty, sweaty clothes from vacation. I can't even tell you how amazing that was when we got home. Plus, it means that I could pack lighter knowing there is a washer and drying at the Massanutten timeshare rental.
My husband really appreciated the attached garage. This made loading and unloading the car a breeze.  Anything that makes vacation easier is appreciated after a long drive there and traveling with kids. It made it easier for our day trips too – just like at home instead of corralling everyone to get to a parking lot like other lodging.
We saw many multi-generational families vacationing together during our visit and longed for our extended family to enjoy the stay with us.  The Regal Vista timeshare condos adjoin to a second unit. Both are 2-bedroom homes. This makes it perfect to vacation together with extended family and friends!
All of the comforts at home and more were waiting for us at Regal Vista timeshare rental at Massanutten. We enjoyed local coffee each morning.
Even a simple breakfast of hot cinnamon rolls with a glass of milk was enjoyed more because we were using real dishes and sitting a a real dining room table. You can enjoy your vacation even more when you have the comforts at home at your fingertips instead of plastic cups and plates at a cramped hotel. I could get use to timeshare travel very quickly!
I suggest stopping by the local grocery store on the way to Massanutten for your week's groceries. They have a convenience store that you can purchase some grocery items, but you'll pay more.
We ate about 1/2 of our meals at the timeshare and 1/2 at restaurants. It was so nice to have options to cook and bake some of the meals during our vacation.
Each timeshare community has its own pool. The Regal Vista property has this lovely pool and clubhouse.
This timeshare was impeccably clean, well furnished, modern, and a joy to stay in. I highly recommend the Regal Vista timeshare property – either as a timeshare or rental. When you work out the price per night staying in a full HOUSE at this community resort compared to a simple hotel elsewhere, it really makes sense.
Massanutten is more than just amazing timeshare accommodations and beautiful mountains. They have endless fun opportunities including a waterpark, golf courses, day spa, zip-lining, and more.  Check out our Massanutten Four Season Resort Mountain Vacation Itinerary.
Book your stay at Massanutten Resort today.
Massanutten Resort
1822 Resort Dr
McGaheysville, VA 22840
(540) 289-9441