Kids are not taking home economics at school like we did in school. If we don't teach them basic cooking and baking at home, they will end up unable to cook on their own when they grow up.  I've been blogging about the benefits of cooking with kids for a decade now because it is so important. My kids are at the point now where they can cook and bake food from scratch and I couldn't be more proud.
I came across 20 Recipes Kids Should Know by Esme Washburn and just had to check it out!
The first thing that I love about this cookbook is that the recipes and introduction to the recipes are by 12 year old Esme Washburn and the food photographs are by 17 year old Calista Washburn. That's awesome! I love hearing about how kids become young entrepreneurs by dong what they love!
This is a sponsored post.
20 Recipes Kids Should Know is more than just a cookbook. It is a guide to learning the meaning behind recipe instructions. Kids learn the difference between stirring and whisking, and the like. Even though this cookbook is for kids, don't expect dumb-down recipes with just a couple ingredients. This is a real cookbook with real, detailed instructions! There are even some recipes that I'm excited to try because I've never made it before, like a pop-over.
My daughter decided to bake a cake for her friend's birthday this week – a made-from-scratch rich chocolate cake with a cream cheese frosting!
I've never made a chocolate cake with buttermilk before so I was excited to taste it in the end! This recipe was a first for a lot of things for my 12 year old daughter. She has baked a variety of homemade cookies before but not a cake! She was a little uncertain about assembling the cake but did a great job.
She wanted to do the entire recipe on her own. With the helpful hints in the cookbook and a tiny input from me, she did just that.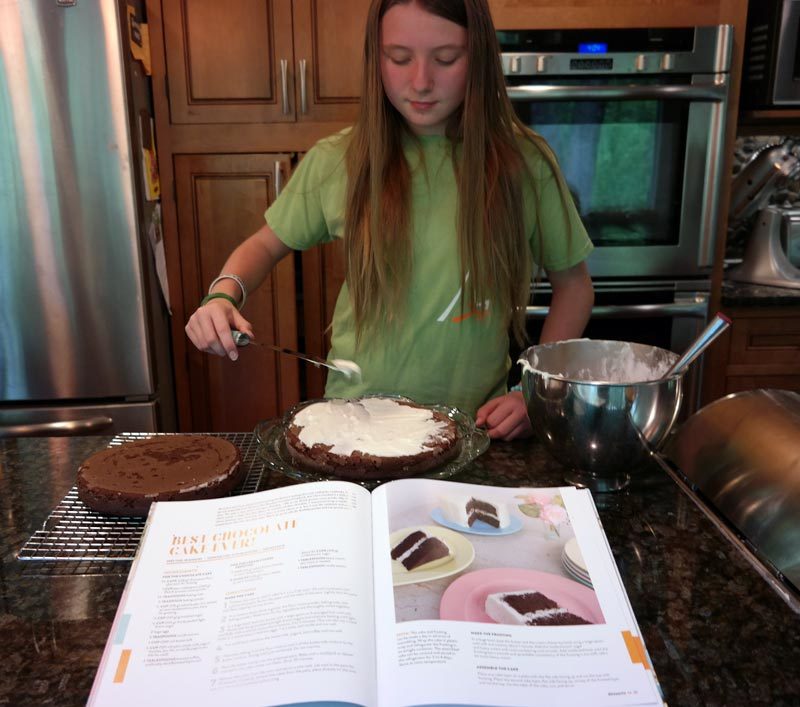 She was so delighted with the cake and so was her friend! The sponge was airy and moist while rich in chocolate flavor. The cream cheese frosting cut the sweetness of the cake and was the perfect match. I forgot to take photos of the cake before we started cutting into it but you can see her final cake – mostly – below.
This cookbook includes 10 classic American recipes that every kid – and every adult – should know how to prepare. Consider this Home Economics 101!  My daughter has also made the pizza recipe with made-from-scratch pizza crust. She's off to make hummus and breaded chicken next. She loves baking and cooking from scratch, she refuses to make anything out of a box – another proud mama moment!
I like how this cookbook has a fun story at the beginning of each recipe to make it more personable and fun. It has tips and hints on how to make the recipe personal and adapted to your tastes too.
This cookbook is perfect for all ages – with more help from mom with younger kids and less with teens. It would be a good cookbook to explore together this summer too! Do your kids a favor by teaching them how to cook and bake before they get out on their own and have to rely on fast food!
Purchase 20 Recipes Kids Should Know on Amazon.com.