With so many high-tech devices screaming for our attention, it is so nice to relax with friends with a good old-fashioned board game night.
My founded memories as a child and teen revolve around game night. My family would host and so would their friends. Kids would play games together while the adults played together. It was the ultimate fun when the adults invited me to join in a game or two with them!  I've continued the tradition of family game night with my husband and kids and have reintroduced board game night with our friends and their families too.
This is a sponsored post.
How to Host a Board Game Night for Adults & Kids
Here are a few easy steps to host a board game night that adults and kids can enjoy.
Board Game Night Seating
You'll want to provide enough comfortable seating for everyone.  Ideally, a round table with chairs would make it easy for people to see the board. However, you can also push furniture together for larger groups or use the coffee table in the living room while sitting on cushions on the floor. Get creative and have a plan before your party arrives.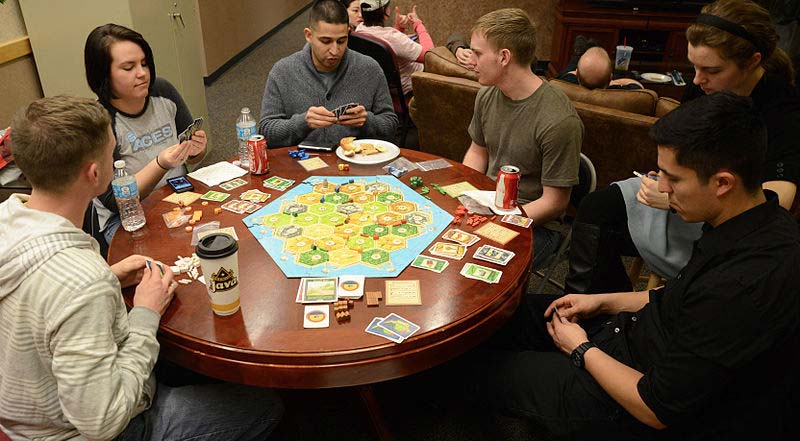 Who to Invite to Board Game Night
If you are a parent with kids, likely your friends are in similar life situations. Don't be afraid to invite both adults and kids to your next board game night.
Consider inviting just 2-3 families to your first board game night. This will be enough to play games together as adults and children. This is a great number for adults to play one game all together or have a couple games going at one time.
Be sure that you have enough children in the proper age categories to play games together. You may want to hire a babysitter for the night to help oversee the kids' games or an adult might be pulled in from time to time.
Board Games for Game Night
Have plenty of games out for all age categories so that guest can see them when they arrive. Some may look familiar to them while others brand new. Encourage guests to browse the games to pick what they'd like to play first.

Goliath Games makes an amazing selection of games for all ages. You can shop by age, number of players, or category to select the best games for your board game night. I suggest playing new games at least once with your family before hosting a board game night. This will keep the game running quickly if at least you know the rules and general direction of the game.
If you have young children, expect at least some of the adults to rotate through to help play a game with the children. Below are games for ages 6+. If you have younger kids, be sure to have game out for them but any younger than 6 or 7 will be difficult without adult supervision.
Actually, some of the games intended for children are a BLAST for adults too like the new Googly Eyes game! Guaranteed laughter comes with this game!!!
My family also loves the SMATH game. It is a crossword-puzzle type of Scrabble but with math equations.  The competition is intense in our family between both siblings and parents and kids! It is a load of fun.
Have a few games that both kids and adults can play together as individuals or teams. Teams are great if you want to include kids in a game like Rummikub. I have so, so many found memories of Rummikub, it was a game the grownups would let me play with them sometimes during game night. My family played it all the time at home too. It's a classic that is easy to learn but still can be very challenging and competitive!
Be sure to add a trivia game like Carmen Sandiego because trivia games are a great way to get the competition and fun going!  This version is very fast paced and a fun way to learn facts from all over the wold. Saved by the Bell Game is sure to bring people down memory-lane – it did me! I loved that show as a kid! What a fun way to reminisce with your friends who also played the game – or introduce your kids to your favorite characters.
Card games are always a hit at parties. Bring out the classics or something new like Oregon Trail: Hunt for Food Card Game. This is a fun, strategic game that can be played as a team for ages 12+.

If you and your friends find a board game based on a TV show you like, hit it up like this Legends of the Hidden Temple Board Game.
Be sure to have plenty of variety of board games for all age groups to keep everyone happy and the party going. Don't worry if you loose parts and pieces during game night, Goliath Games offers a shop of refills.
Food for Board Game Night
Food is very important for board game night. You don't have to prepare a meal but be sure to have plenty of food because people love to graze during board game nights. Serve appetizers, snacks, and sweets that are portable and in small bites so that people can grab something quickly in between their turns.  Half way through the evening when you are between games, serve a delicious dessert.
Here are a few great recipes for board game night.
Mini Grilled Cheese Sandwich Appetizers
Have fun!
Hosting a board game night is easy as long as you plan ahead. It is a great way to gather friends and family together for an evening of laid-back fun. People who play and laugh together stay together!