Summer has just become a little sweeter with SONIC. SONIC is offer 1/2 price milkshakes after 8pm all summer long and they have also added delicious, yummy Cinnasnacks to their breakfast menu for a limited time.   I am so excited to announce SONIC's fantastic Summer promotions. I received a gift card for my family to facilitate this post.
SONIC 1/2 Price Milkshakes!
The one thing that sets SONIC apart from all the rest is their REAL ice cream.  Made with fresh milk and cream, SONIC is one of the only places to offer the rich, smooth flavors of real ice cream. You can tell the difference when you taste a SONIC shake in the texture, taste, and smoothness. Starting with only real ice cream, SONIC now offers 25 different shake flavors to choose from that are hand-mixed for the best shake you can get this Summer.
Choose from 25 flavors including new flavors like Peanut Butter & Bacon Shake, the Cherry Cheesecake Shake, the Coconut Cream Pie Shake, and so many more. All Summer long, you can treat your family to SONIC shakes for 1/2 prices after 8pm! This is the perfect way to end any Summer day with your family and friends.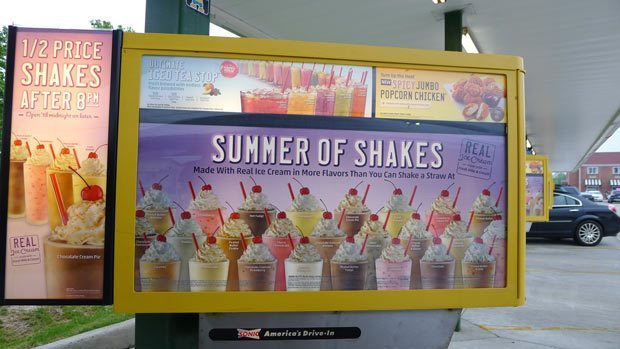 SONIC is the best place to stop on the way to Wildwater Kingdom in Aurora, Ohio before you hit the waterpark.  My family often stops by SONIC  home from Cedar Point or Put-in-Bay while visiting the Sandusky, Ohio area because they are open late and just what we want for our long ride home! 
Sweeten up your morning with SONIC Cinnasnacks
If you are like me, you are not a morning person. In fact, a recent survey states that almost 1/2 of Millennials are not morning people either. When asked what would make mornings better, 50% of the millennials stated that a better breakfast would help!
SONIC has just the right thing to sweeten up your morning, new Cinnasnacks! SONIC Cinnasnacks are bite-sized inside-out cinnamon rolls with cream cheese frosting for dipping.  Perfect for breakfast or a snack anytime of day. Cinnasnacks is another good reason that SONIC offers breakfast all day long – so even if you sleep in, you can have a delicious breakfast. I can't wait to try the warm, gooey goodness the next time we visit SONIC. They look delicious!
Cinnasnacks come in two snack-able sizes: three-piece and five-piece. They are available for a limited time only at participating SONIC Drive-Ins.
Like SONIC on Facebook
Follow SONIC on Twitter
Visit SONIC
Visit SONIC this Summer, there are more than 3,500 SONIC Drive-Ins nationwide, find your nearest SONIC. Locally in the Akron, Ohio area, you can enjoy SONIC in Massillon, Streetsboro, North Canton, and Brunswick, Ohio.
This was not a paid post. My own opinions were used based on my perceptions and experience. Thank you to Sonic who supplied the gift card for review.