Portion control is a big problem in our society. Kids and adults alike. Since the 1970's portion sizes have increased in the food industry. Since then, obesity has become an American epidemic with about 31% of kids, 40% of women, and 35% of men overweight. Portion control is helpful in achieving and maintaining a healthy weight.
Summer can be difficult to stay on track, especially while traveling! Instead of giving your child a bag of chips for a snack, consider giving them an EasyLunchBoxes Snack Box Container of delicious foods. Pack them ahead of time and break them out throughout your road trip when kids start to get hungry or bored!
This is a sponsored post.
Portion Control Snack Boxes for Travel, Work, Camp, School & More
Just look as appetizing those snacks are! Each compartment holds 1/2 cup of food. This makes portion-control easy! If you are counting carbs like my family, this is a dream come true. My kids are type one diabetics, so we have to measure everything and count carbs. EasyLunchBoxes make it very easy for us!
Anyone who knows me and spends any amount of time with me and my family knows that I truly love the EasyLunchBoxes brand of products. They make packing and eating healthy fun and easy. It is so easy to pack a delicious bento-style lunch or snack with their products. I've been using and promoting their lunch boxes for years and my kids love it!
I was so excited that they now have 4-Compartment BPA-Free Snack Box Containers that are perfect for on-the-go snacking whether you are taking a road trip, air plane trip, going camping, or just need a snack for work, day-camp, beach, zoo, or while running errands! These containers make it easy and appetizing to pack healthy foods on the go for every age!
Check out a few examples of snacks I've packed this week for my family.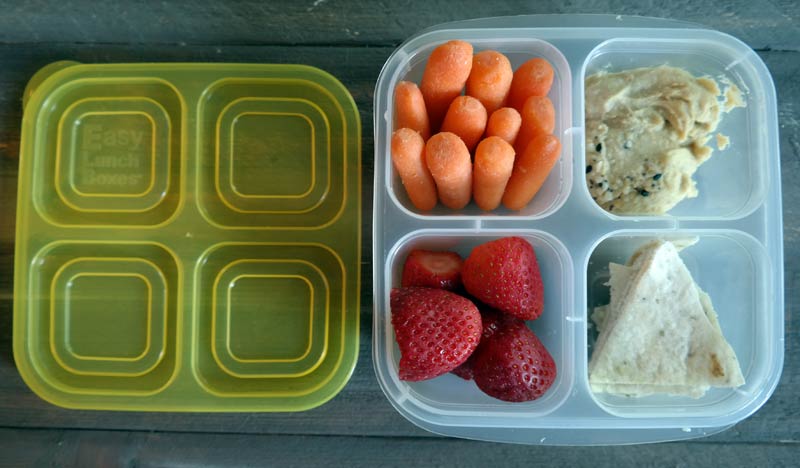 Some containers are heartier as a meal replacement or sizeable snack if we were going to have a late meal that day.
Other containers are lighter to curb their appetite but not fill them up. All containers are balanced. I try to incorporate protein, fruit, nuts, veggies and/or fruit, and a slightly sweet or snacky item.
Below is a filling snack with plenty of nuts, protein-rich cheese, and sweet, yet healthy trail mix. This is fuel-in-a-box for days that we have a lot of activity planned!
Instead of just grabbing a granola bar, I pair this snack with some refreshing vegetables and ranch dressing.
Another protein-rich snack combination helps fuel kids through a day of activity. Without the raisins, this would be very low carb and low calorie too if you are watching carbs and calories. Switching out the raisins for nuts or veggies would make this even healthier.
This is a great balance of sweet, hearty, and refreshing snacking!  All compartments allow foods to stay apart. This means that if you have something like watermelon next to trail mix or crackers, the crackers will not get soggy. I've always loved this about EasyLunchBoxes because I can pack the night before and know that the crackers or bread will be fresh even if I pack something moist in the container next to it. Of course these containers are not spill-proof so don't pack liquid!
EasyLunchBoxes Snack Box Containers stack perfectly together which means it is easy to make ahead and store in your refrigerator. Or pack dry items in your pantry. They are Safe for microwave, freezer, and dishwasher too.
The EastyLunchBoxes lunch size containers stack nice together too, you can fit 3 in their cooler for even easier travel with multiple meals for road trips, camping, and more.
If you want to provide healthy, portion-controlled snacks for your family this summer while you travel, pick up a couple 3-packs of 4-Compartment BPA-Free Snack Box Containers on the EasyLunchBoxes website. You may be able to find them at Target too, as their lunch boxes are sold there currently.