Surprise mom this Mother's Day with this easy-to-make and delicious Heart Shaped Pancakes and Sausage Recipe. This recipe is easy and intended to be made with kids helping. I write often about cooking with kids and how beneficial it is in so many ways. Your kids will be so thrilled to make mom this special breakfast for Mother's Day.
This is a sponsored post for Johnsonville.
Heart Shaped Pancakes and Sausage Recipe
There are a few ingredients that make this Heart Shaped Pancakes and Sausage Recipe extra special for Mother's Day.  The star of this recipe is Johnsonville Fully Cooked Breakfast Sausage Patties. Mom will enjoy the the big, bold flavors of Johnsonville without all the fuss as they are fully cooked and ready to eat in just 30 seconds!
Heart Shaped Pancakes and Sausage Recipe
Cut strawberries into heart shapes.

Cut Johnsonville Fully Cooked Breakfast Sausage Patties into heart shapes

Slice butter, then cut out heart shapes.

Prepare pancake batter as directed.

Pour batter into a squeeze bottle, like an old ketchup bottle.

Heat griddle with a little oil over medium heat.

Heat Johnsonville Fully Cooked Breakfast Sausage Patties for 30 seconds in microwave.

Draw heart-shaped pancakes with batter.

Add heated Johnsonville Fully Cooked Breakfast Sausage Patties to hearts after about 1 minute of cooking, cook another minute, then flip.

Serve with heart-shaped strawberries and butter.

Garnish with additional berries, as desired.
A little bit of prep work makes this recipe extra special for mom. There are steps for kids of every age for this recipe. My kids have been working with me in the kitchen since they were toddlers. They are ages 9 and 11 and capable of many kitchen tasks, they both can make incredible omelettes on their own!
However, cutting the center out of the strawberries to create the heart-shape might be a task for dads.
Slicing the rest of the strawberries is easy enough for older kids and those that have practice using a knife in the kitchen, with supervision.
The key to this recipe is using Johnsonville Fully Cooked Breakfast Sausage Patties. The patties are full cooked and will not shrink like raw sausage. This makes it easy to cut a heart shape into the patties and keep it that shape in the recipe. Since the patties are fully cooked, they can easily be placed in the pancake batter for the final stage of this recipe.  The combination of pancakes and America's number one brand of sausage is delicious.
The next step is to pour the pancake batter into a squeeze bottle. You can use an old ketchup bottle if you have one or buy a fresh, new one for about a dollar. Kids LOVE this part as they can create hearts, designs, and special messages for mom. My kids are experience in the kitchen and older, so this is an age-appropriate task for them. Use your own discretion with your kids. If you have younger kids, you can ask them to tell you how big to make the heart, etc. to involve them in this process.
Making mom happy and bringing families together through food doesn't have to be complicated, Johnsonville makes it quick and easy to enjoy delicious food with your family. Dads will appreciate that it only takes 30 seconds to heat these sausages on Mother's Day morning too!  Simply place them on a paper-towel lined plate and cook for 30 seconds in the microwave. Kids can place the plate in the microwave but be sure the plate isn't hot if they are taking it out.
If you prefer, you can also heat on the stove in a skillet until warmed too.
After heated, place into the partially cooked pancake.
Continue to cook for another minute and flip. The sausage will cook into the pancake, making a lovely presentation and irresistible flavor combination.
Top the pancakes with the heart-shaped strawberries and additional blueberries and raspberries.  Prepare mom her favorite cup of coffee or tea and a glass of orange juice. Don't forget to get out the nice glasses and dinnerware to show mom how special she is.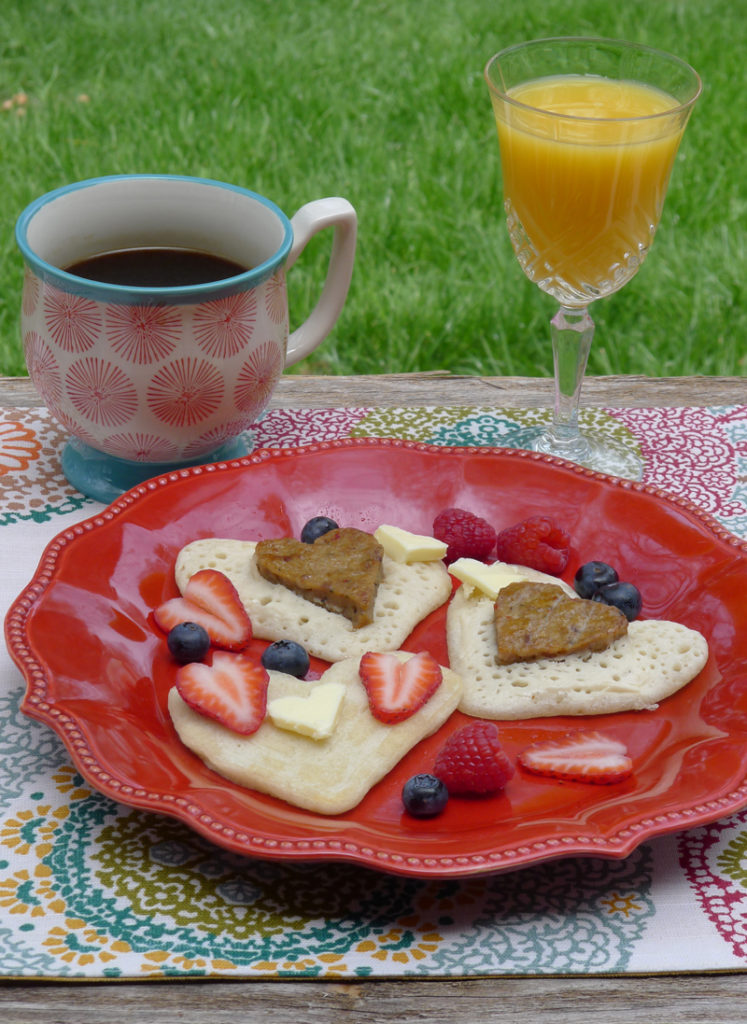 Mother's Day is suppose to be nice and warm this year. Prepare breakfast for the entire family and enjoy eating outside on the picnic table! Breakfast in bed is another option!
For kids that want to be even more clever, spell out Happy Mother's Day or #1 Mom with the pancake batter. Kids love drawing with the batter – and they enjoy eating it as well. We do this for birthdays and special occasions often. It makes breakfast fun without much fuss.
Mom will be so surprised this year when her kids show her how special she is with a delicious breakfast like this! Adding Johnsonville Fully Cooked sausage patties and a little creativity to breakfast will get this Mother's Day off to a great start!
Find more delicious recipes featuring Johnsonville sausage on the Johnsonville website, Facebook, Pinterest, Twitter, and Instagram.