Today is World Diabetes Day, a day to spread awareness about diabetes. It is also the birthday of Sir Frederick Banting who discovered the life-saving insulin that diabetics rely on for their very lives. I write about Type One Diabetes often as both of my children have it. Type One Diabetes has no cure, it is an auto-immune disease that attacks the pancreas, preventing them from producing any insulin. It is a relentless disease that requires 24/7 attention. How I wish I could take it from my children or even give them a day off….
Let me tell you a story that could have had a tragic ending and how SPIbelt could have been a life-saver, literally. When we were at Cedar Point this summer, both of my type one diabetic children got stuck on the Gemini at the top of the hill.
I always carry a backpack with a LOT of extra supplies with me. I carry the bulk of the supplies while they keep sugar in their pockets and phones (for transmitting blood sugar data).  Both kids had 2 packs of fast-acting sugar in their pockets -gummies but I had their phones because they were afraid they would drop them out of their pockets.
They went on back to back, we didn't have their blood sugar numbers registering because I had their phones. They were both in the low 100 range 1/2 hour before which is good but could quickly become a dangerous situation if their blood sugar dropped.
My heart dropped when I saw the coaster was stuck. I was able to get the attention of an employee who took me to the front of the line. I explained that there are 2 diabetics on the roller coaster and they might have low blood sugar.
I can't explain the fear I had when I knew I couldn't reach my kids, and didn't know their blood sugar. I feared for their very lives! Literally, their very lives.  Thankfully it was only stuck on the hill for 10 minutes and then at the end of the track for another 10 minutes – but it felt like forever because I couldn't communicate with them.
When I saw my daughter and the look of fear in her eyes, my heart sank. They both had low blood sugar. My daughter was dangerously low. The anxiety of being stuck on a roller coaster is all it took for their blood sugar to drop. They both ate 2 packs of gummies 44 carbs each – usually it takes just 15 carbs to raise blood sugar to a healthy level. They had more than double the amount that usually helps and still going low.
My daughter was so upset, she thought she might go so low that she would pass out or have a seizure. Type One Diabetes is a terrible disease that puts the fear of comas and death on our minds daily. Being prepared and on top of it every moment of every day is all we can do. We were lucky, I wish they were wearing a SPIbelt with extra sugar and an emergency glucagon with them!
How SPIbelt Can Save Diabetic Lives
SPIbelt comes in a variety of sizes and styles to carry your essentials with you, around your waist.  A lot of athletes where SPIbelts as well as people who travel, bike, and hike. It is a great way to keep keys, money, phones, and essentials with you wherever you go.
We've learned over the years how to live with type one diabetes the best we can. One way is through innovative products that help us be prepared while not letting diabetes take over every aspect of our lives. Being prepared is non negotiable.  Before leaving the house, we have to make sure we have fast-acting sugar for blood sugar lows, insulin, meter, test strips, keytone strips, insulin pump site change, continuous glucose monitor site change, alcohol wipes, needles, and an emergency glucagon at the very least. If we plan to be away from home for the day, the number of items double.
For diabetics, SPIbelt is a convenient way to keep all of your diabetic supplies safe and secure with you at all times. It can be worn under or over clothing and lays flat.  It sure beats carrying a bulky bag with you, keeping items in your pockets, or not having supplies with you.
SPIbelt with Waterproof Accessory
If you are going anywhere that you fear items might get wet or dirty, you'll want to wear this SPIbelt with Waterproof Accessory.
It can keep items like you insulin, phone, keys, etc dry because the attachment is 100% waterproof. You can keep it inside your SPIbelt or hang on the outside with the toggle, either way, it has an airtight seal that will protect your diabetic supplies. For places like Cedar Point, this allows diabetics to keep their medical supplies with them even on the water rides like Thunder Canyon!

There is plenty of room for extra sugar, glucagon, needles, and other medical supplies too as the pouch expands 6.5″ x 3″ x 2″.  This is a belt bag that can be worn daily by diabetics to keep supplies on hand – either worn under or over your clothing.  If my kids wore this while on the Gemini, they could have had more sugar with them that day and even an emergency glucagon!
SPI Messenger Bag
I am in love with the SPI Messenger Bag. As a mom of two children with diabetes, I carry a LOT of supplies with me. Nothing has been more convenient and easily accessible than this bag! It can be worn as a traditional belt bag or as a cross-body bag.
I can easily get to any item I need for my kids in an instant.
Plus, the small pocket on the side is perfect for my cell phone, money and other small items that I want to get to quickly. I pack a LOT of medical supplies and still have room for more in this bag!
It is also comfortable and convenient to wear as a cross body bag.
I keep the smaller pocket up front so I can reach my phone and money quickly and easily without sorting through all the diabetic supplies.

It is no wonder why I can put so many diabetic supplies in this messenger bag, you can even fit an iPad! It expands to 10″ x 8″ x 2″. This is the bag every diabetic mom or dad needs to have with them anytime they leave the house but especially when they go on day trips or vacation. You can't be too prepared when it comes to diabetes.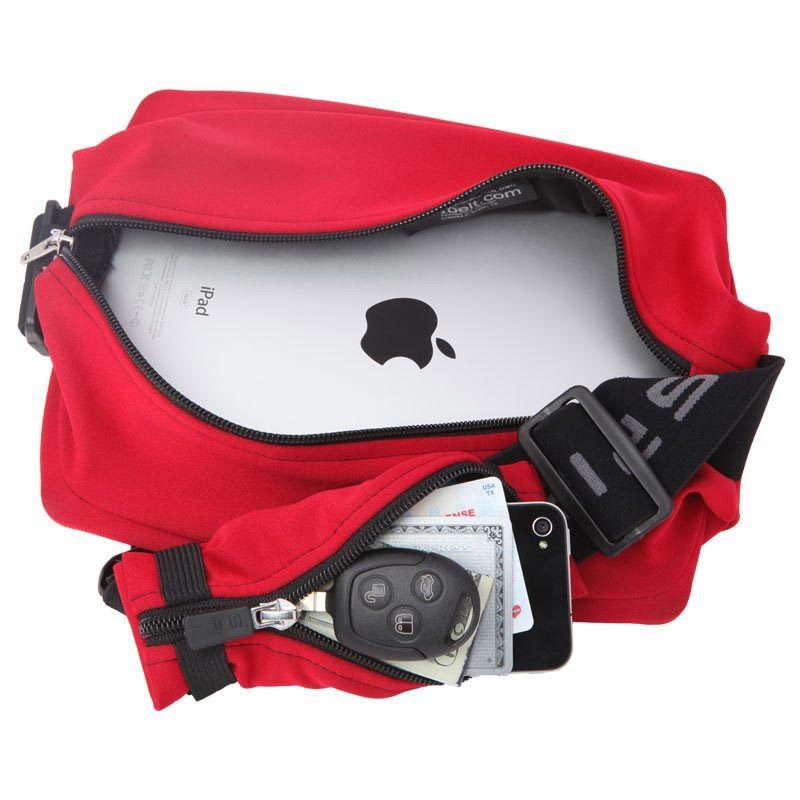 Diabetic SPIbelt
If you have a corded insulin pump, check out this Diabetic SPIblet that has a reinforced pass-through hole in the pocket to weave the cord through. This helps a ton with concealing the tube as well as protecting the tube from getting caught on things.
My kids wore SPIbelts every single day when they used an insulin pump with a cord. It was their goto to keep the pump safe and secure – even while ziplining!
Diabetic Kids SPIbelts
SPIbelt has kid sizes of their SPIbelts, including their diabetic SPIbelt. Here are a few that we've used in the past with fun colors and designs. Even if your child isn't diabetic, a SPIbelt is a great way to keep their cell phone safe!
Since our experience at Cedar Point, we never leave without wearing our SPIbelts. I wasn't doing them any favors by holding onto their phones and pockets can only hold so many supplies. Thank God the employees and technicians were able to get the rollercoaster going again and that my children's blood sugar didn't drop any lower. Being prepared for every circumstance is what we have to do when it comes to type one diabetes. It makes life less stressful and safer when we are completely prepared.
If you have a diabetic child, I highly recommend SPIbelt. They have many options for sizes, colors, and styles. They are comfortable to wear and affordable. SPIbelt is also great for those that need to keep an EpiPen on hand at all times!
Shop all the SPIbelt options on the SPIbelt website. Today only save 20% off all Medical SPIbelts with promo code: WDD2019
If you have a loved one with Type 1 Diabetes, consider donating to JDRF (juvenile diabetes research foundation) today.  Donations today will be matched up to $1,000 dollar for dollar!