Boy were we surprised at what we saw when we returned home from vacation at 2AM! We could hardly believe our eyes! My son found it first and yelled for us to come see! Seriously, someone came into our house while we were on vacation and we didn't know about it until we got home.
While we were vacationing in the Outer Banks, we had a very busy dad working on the office. Of course we didn't know he was there, sweating in the record breaking heat, working on our office. He's just like that, selfless, giving, and hard-working. My father-in-law is one-of-a-kind and has been unimaginably giving as he helps us remodel our entire home, simply because he loves us. We love him too, very much.
Last month, we started ripping out the carpet and patching up walls in a room located off of our living room. It was a useless room that basically just stored toys, kids didn't even play in it. With our remodel home design, we took that space to create our new home office.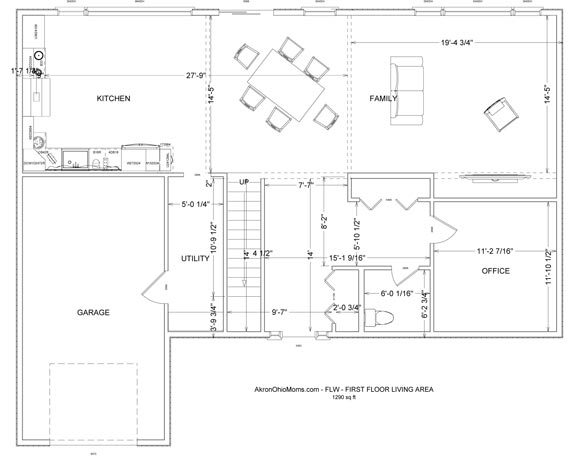 Our new remodeled office
My father-in-law built a new wall that separates the living room from the new office, he dry-walled it, taped it, and even sanded it. He updated all the electrical wiring while adding more outlets for our computers.
Not only that, but he also installed Tarkett's Laminate from their Cross Country division Seagrass Japanese. This is the same flooring that is in our dining room and soon-to-be kitchen. It is stunning, we love it. And, it is super easy to clean.What I look forward most about the new laminate floor is using our office chairs in a "real" office. No more trying to keep on the tiny mats or trying to roll on carpet! It has the look and feel of a professional space. This is important to me because I want my husband to have a space that is designed well for his office. He works from home so it is important to have this kind of professional space. He never complains or seems to call too much, but I do, for him. I will of course enjoy it too as my desk is right next to his.
So, all I had to do was prime the walls. We used a primer that was good for both new construction and to paint over existing paint. It was much thicker in consistency and cost a little more but it gave us an even-colored surface to start with, so it was worth it. We decided to continue the use of the sage green color that we have in the kitchen and dining room. It's a nice, calm, modern color.
After the flooring was laid, my father-in-law added new trim work around the base of the floor, around the door, and around the windows. Eventually, I'd like to get new windows in this room, ones that are much larger. I like the Frank Lloyd Wright style of the home. These windows were purposely high so that when you look out the window, you only see nature – not the neighbors. The entire house is designed this way. When you look out any window, all you see is woods. Kinda cool in theory, but not for light and I just like to gawk out the window instead of working sometimes. 🙂
We sized the room to fit our 2 adjoining IKEA desks. Seriously, this room is exactly the size of our 2 desks side-by-side. There isn't even 1/2″ to spare!
Now, we have to install a new ceiling fan, set up our computers and we are good to go! Later, we will be adding a closet to this room that is currently a closet facing the living room. That is much, much further down the road in this home remodel journey.
This was not a paid post. My own opinions were used based on my perceptions and experience. Thank you to Tarkett who supplied the product for review and the ongoing relationship with AkronOhioMoms.com. Check out the great selection of products at http://www.tarkettna.com. And, Thank you for Dad Orley from Good Life Remodeling who surprised us with such a huge gift of remodeling our office!