We just got home from our family vacation to Outer Banks, NC. It was our first trip to the Outer Banks and let me tell you, we will be back as soon as we can. The requirement for our vacation this summer was a beach, our kids wanted to build sand castles. We decided to drive instead of fly, in a Ford Explorer loan from Ford Media Fleet and gas from Sunoco. Our first stop was just a couple hours shy of the Outer Banks for King's Dominion, a Cedar Fair property.
We stayed in Duck, NC, home of beautiful beaches both sound and ocean side. We spent much of our time at the beach, soaking up the 100 degree weather with plenty of sunblock on.
Elizabeth, my 4 year old girl mostly drew in the sand, while my 6 year old son, Elijah enjoyed catching sand fleas and crashing in the waves with daddy. I spent most of my time eying the waves for sharks. I say that 1/2 jokingly as there was a 6 year old girl attacked by a shark in the Outer Banks the same week we were there! I have been told that this is very, very uncommon and a shark bite hasn't been reported in more than 15 years…still I was over-protective mom!
We ended up traveling south of Duck to Kill Devil Hills and to Nags Head quite a lot for entertainment and dining. Our favorite restaurants were Port O'Call, High Cotton BBQ, and Sam & Omie's Restaurant.
We also enjoyed visiting Island Dye It Yourself Tie Dye, Nags Head Produce, Top Corn Hole Boards, Jennette's Pier, and Sarah Kimmel with Sarah Kimmel Photography. I also found out if a swimsuit could make you look 10lbs lighter with MiracleSuit.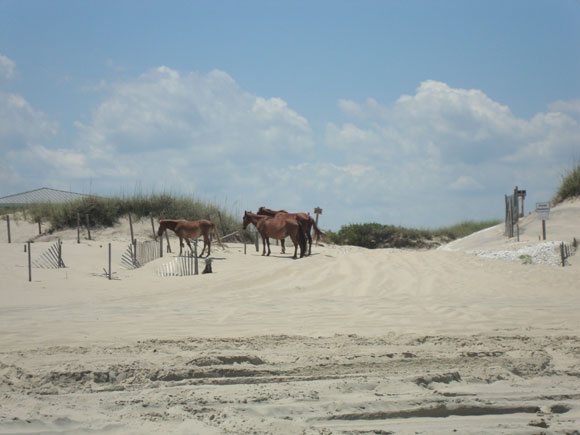 We also took a short drive north to Corolla, NC for the Wild Horse Adventure Tours and for the best seafood anywhere at Steamers Shellfish To Go.
You know that you have succeeded  in a good family vacation when your kids repeatedly say "This is the best day ever" day after day. Another indication is when your 6 year old ask to be held and hugs you. It was a beautiful vacation full of excitement for sure, but lots of family bonding. I hope you will stay tuned to hear all about our travels and recommendations for what to do in Outer Banks, NC.