My 9 year old daughter loves peanut butter cups. I told her the other day that if she ate any more, she would turn into a peanut butter cup. Then, she had the idea of a giant peanut butter cup and wondered if anyone else had thought of it. Indeed, other peanut butter and chocolate fanatics have already thought of it, so of course we had to make our very own Giant Peanut Butter Cup! This is just one more extraordinary way to enjoy peanut butter!
Giant Peanut Butter Cup Recipe
This an such an easy giant peanut butter cup recipe to make. It includes just 4 ingredients that you might already have in your pantry.
Basically, you melt the chocolate and pour into a tart part, allow to cool and set in the refrigerator. Next, combine the peanut butter, powdered sugar, and butter for the peanut butter center. Place inside of the 1st layer of chocolate and cover with another layer of chocolate. Easy peasy, yet so impressive! I can't wait to bring this to our next party.
| | |
| --- | --- |
| | |
Cover bottom of tart pan with wax paper - If you have a removable bottom, wrap wax paper around the base and then replace base into tart pan. If you don't have a removable bottom, simply cut wax paper to fit the bottom.

Melt 1/2 of the chocolate in microwave or stovetop.

Pour melted chocolate into 9" tart pan, smooth evenly on bottom and all the way up the sides of the pan.

Cool chocolate pan in refrigerator for 1/2 hour, or until set.

Combine Jif peanut butter, butter, and powdered sugar in large bowl with mixture. The texture will be thick and crumbly.

Remove chocolate base from tart pan and discard wax paper.

Press peanut butter mixture into the tart pan, ensuring that it is evenly pressed down.

Remove peanut butter mixture from tart pan and trim edges by running a knife along the edge of the tart pan's base. This ensures the peanut butter mixture will be smaller than the chocolate base.

Clean tart pan and replace the chocolate base into the pan followed by the peanut butter mixture.

Melt remaining chocolate and pour evenly over the peanut butter mixture, filling in gaps between peanut butter and bottom chocolate base.

Smooth the top of the chocolate with a spatula to create a smooth top.

Refrigerate at least 1/2 hour to set.

Cut and serve at room temperature.
I found several recipes online for giant peanut butter cups, including this video from Cupcake Addiction. When trying new things, it always makes it easier to follow a youtube video!
As you can see, this Giant Peanut Butter Cup recipe is easy to make. Your kids can even help – except for the melting the chocolate part if they are young although they will have no problem licking the spoon once you are done!
For the bottom layer of chocolate, be sure to spoon the chocolate over the surface evenly and up onto the sides of the tart pan.
Chill the chocolate in the refrigerator for about 1/2 hour, then remove from pan because you'll want to press the peanut butter mixture in the pan – or use a second tart pan if you have one!
The peanut butter filling is delicious, you'll have a hard time not sampling it! It is simply peanut butter, powdered sugar, and salted butter. It'll be crumbly in texture.
Simply press the peanut butter mixture down into the tart pan until it is in a solid form.
Next, remove from the pan and trim off the edges so it will fit nicely into the chocolate base.
Pour remaining chocolate over the peanut butter mixture and smooth on top.
This Giant Peanut Butter Cup Recipe is fun and easy to prepare.  It is sure to be a hit as an extraordinary special treat for your family or at the next party you attend.
Be sure to thaw at room temperature before cutting or the chocolate will crack. Enjoy the ultimate peanut butter and chocolate combination!
If you count carbs for health reasons like my family, I'll give you a rough idea of carb counts. There are approximately 775 grams of carbs in the entire recipe.
This number will change slightly depending on the type of peanut butter and chocolate you use. I use Simply Jif peanut butter because it has just 7 carbs per serving, which is less than others.
If you cut the recipe into 24 slices, each serving is 32 carbs. The slice cut in the picture above is a huge slice of 1/12th of the peanut butter cup, or 64 carbs! Everything in moderation, right?
This post is part of our 9 Extraordinary Ways to Enjoy Peanut Butter series, check back for more recipes in this series including:
Giant Peanut Butter Cup Recipe
African Peanut Butter Stew Recipe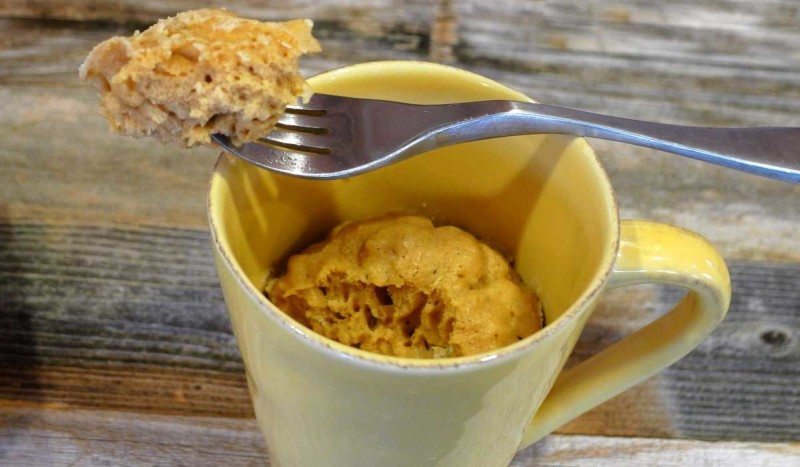 How to Stop the Ice Cream Cone Drip
Two-Ingredient Banana Peanut Butter "Ice Cream" Recipe
Check out other delicious peanut butter recipes on the Jif website. You can purchase Jif peanut butter at retailers nationwide. Get social with Jif on Facebook and Twitter.