I've been seeing recipes for cake in a mug for a while now and I decided to give it a try using peanut butter. I'm so glad that I did! This is an extraordinary way to use peanut butter as it is the MAIN ingredient in this low carb peanut butter mug cake recipe!
This is a sponsored post for Jif, all opinions are my own.
Peanut Butter Mug Cake Recipe
This is a homemade, low carb, full flavor dessert that is prepared in just 5 minutes! I found many recipes online but the easiest one I found was on Kirbie Cravings with just 3 ingredients. I made just one change to make it low carb for my Type 1 Diabetic children.
Whisk together all ingredients in a bowl.

Pour ingredients into microwave-safe mug.

Microwave for 1-1/2 minutes.

Top with whipped cream, if desired.
I suggest whisking the ingredients in a medium size bowl. I tried in my mug as the original recipe said, but it was difficult.
It will be a thick batter, make sure the eggs are fully combined within the ingredients. You can use any Jif creamy peanut butter, I used Jif Natural Peanut Butter because it is lower carb at only 8 carbs per 2 tablespoons, or 12 total for this recipe. If you are looking for even lower carbs, the Simply Jif Peanut Butter only has 7 carbs for 2 tablespoons.
I also used Truvia Natural Sweetener because is 0 carbs which beats 4 carbs per teaspoon of ordinary sugar. If you want to use regular sugar, increase it to 1 tablespoon + 1 teaspoon of sugar for this recipe which would add 17 carbs for this recipe.
The result is a snack-size peanut butter cake that has the texture of angel food cake or a sponge cake. It is very moist, light and airy. Eat it straight out of the cup or on a plate.
You can even add whipped cream and toppings like mini-chocolate chips for the ultimate guilt-free snack!
The total carbs in this recipe is just 12 carbs per serving, a tasty, low-carb snack or dessert for anyone, but especially good for Type 1 Diabetics and Type 2 Diabetics who count carbs with every meal.
This post is part of our 9 Extraordinary Ways to Enjoy Peanut Butter series, check back for more recipes in this series including:
Giant Peanut Butter Cup Recipe
African Peanut Butter Stew Recipe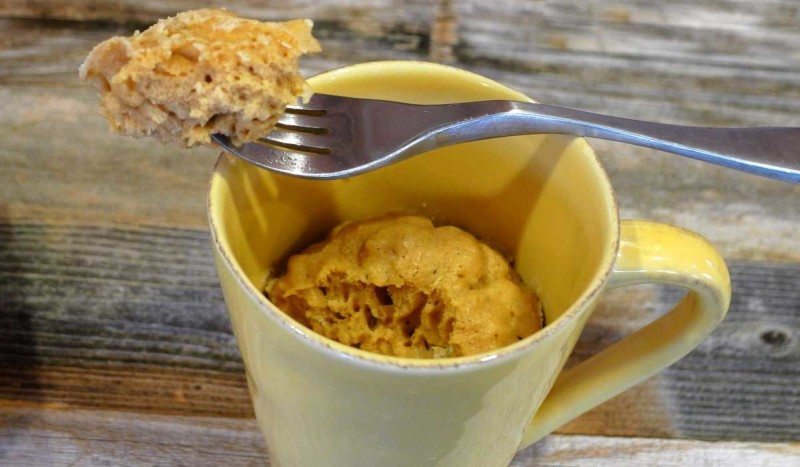 How to Stop the Ice Cream Cone Drip
Two-Ingredient Banana Peanut Butter "Ice Cream" Recipe
Check out other delicious peanut butter recipes on the Jif website. You can purchase Jif peanut butter at retailers nationwide. Get social with Jif on Facebook and Twitter.